10 Ways to Protect Yourself from Insider Trading
The Financial Conduct Authority (FCA) clampdown on insider trading is gaining pace, after a number of high-profile investigations.
In May 2016, former Deutsche Bank Managing Director, Martyn Dodgson, and accountant Andrew Hind, were sentenced to 4½ and 3½ years in prison respectively for insider dealing. The court heard how the pair passed inside information to other accomplices who traded on their behalf, netting over £6.9 million from 2006-2010.
Dodgson, who advised the government during the financial crisis, had repeatedly denied any involvement, but incriminating evidence was discovered on an encrypted IronKey storage device which investigators accessed with the password 'Lamborghini55'.
Dodgson's 4½-year sentence is the longest ever given for insider dealing. It followed an eight year investigation, known as 'Operation Tabernula', by the FCA and the National Crime Agency (NCA), costing £14 million. It is one of the FCA's most complex investigations into insider trading in history.
The case highlights the continued problem that firms are facing in tackling insider dealing.
Top tips to protect yourself from insider trading:
Conduct due diligence on potential and existing employees and contacts - It's essential that you know who you are dealing with.
Take extra care at trade or social events - Especially where you may be in close contact with other financial firms. Be sure to remove yourself immediately from any conversations which stray into sensitive topics or conversations which are off limits.
Be clear about what is sensitive non-public information and what isn't - Make sure you know what you are and aren't legitimately allowed to share with others to prevent unlawful disclosure.
Never disclose non-public information to outsiders - This includes, but is not limited to, details about takeovers, mergers, earnings, profit warnings, litigation, or security offerings.
Don't make recommendations or induce others to deal while in possession of inside information - This is an offence under MAR.
Be vigilant to informal work and social contacts - Overlapping work relationships where someone socialises with former colleagues in other financial firms create added risks for improper information sharing.
Act responsibly and with integrity - Report any concerns you have about insider trading, unlawful disclosure or market manipulation promptly to your manager or Legal/Compliance.
At recruitment, probe and document the work history of candidates - This evidence will be invaluable if suspicious activity is discovered later (for example, if a trader trades stock of a company owned by a business school acquaintance).
Watch out for trades which fall outside the normal buy pattern - This might indicate suspicious activity.
Organise blackout periods - Especially where traders are barred from purchasing securities at certain times, such as earnings announcements.
Want to know more about Financial Crime?
We have created a glossary of financial crime terms to help you negotiate compliance.
And we have 50+ free compliance training aids, as well as regularly publishing informative Financial Crime blogs. Or, if you're looking for a compliance training solution, why not visit our Compliance Essentials course library.
If you've any further questions or concerns about Financial Crime, just leave us a comment below this blog. We are happy to help!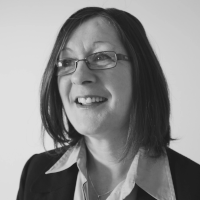 Lynne is an instructional designer with over 20 years' storyboarding experience. Her current areas of interest are mobile learning and exploring how cognitive theories of learning can create better learner experiences.
By clicking subscribe you consent to receiving our monthly newsletter. For more information read our privacy policy.