7 Ways to Stay Safe When Using Display Screen Equipment
Working in an office comes risk free, right?....... Wrong! Which is why we have created some top tips for how to stay safe when using display screen equipment (DSE).
Do you know the risks associated with DSE?
According to the Health and Safety Executive (HSE), computer workstations or equipment can be associated with neck, shoulder, back or arm pain, as well as with fatigue and eyestrain. Past surveys have also shown a significant number of display screen equipment (DSE) users showing signs of upper-limb disorders (ULDs).
DSE can also be referred to as Visual Display Units (VDU) and includes laptops, touch screens such as tablets, and any other similar device that incorporates a display screen.
Key facts about work-related illnesses
Work-related musculoskeletal disorders (WRMSDs) account for 41% of all work-related ill-health, with repetitive keyboard use being one of the major contributory factors
8.8 million working days were lost due to WRMSDs in 2015/16
Most of those affected experience back problems or disorders of the hand, arm or wrist
11,000 cases occurred through keyboard or repetitive movement activities
3.14 million days were lost due to work-related upper limb disorders (such as repetitive strain injuries, hand-wrist tendon syndromes and carpal tunnel syndrome) in 2015/16


Simple safety tips when using DSE & technology at work
Make adjustments before you start work to improve your posture - pay particular attention to the position and angle of your monitor, mouse and keyboard; the height and position of your chair and feet; and also any documents. Use blinds (to prevent screen glare) and adjust the brightness/contrast settings (to prevent eye strain).
Re-arrange your work - so you flip between IT and non-IT tasks throughout the day - to avoid prolonged periods of keyboard or seated activity.
Use whatever personal protective equipment is provided - including hand rests, document holders, foot rests, anti-screen glare shields, etc. Talk to your manager if you identify anything else which may be of benefit.
Walk around and move away from your desk - take regular exercise during the day - for example, by walking up or down stairs - to increase your circulation. Carry out regular finger and arm exercises between tasks as you sit at your desk.
Protect yourself when using portable devices too - such as smartphones and tablets. Avoid prolonged use, position your tablet at eye level to avoid neck strain and use a stylus and shortcuts to prevent nerve damage in your fingers.
Have regular eye tests - anyone habitually using display screen equipment should have regular tests to check their eye sight.
Talk to your manager if you're concerned about safety when using DSE - they may help you rearrange your work, make other adjustments, offer other equipment, and so on.
Want to know more about Health & Safety?
As well as 30+ free compliance training aids, we regularly publish informative Health & Safety blogs. And, if you're looking for a compliance training solution, why not visit our Health & Safety course library.
If you've any further questions or concerns about Health & Safety, just leave us a comment below this blog. We are happy to help!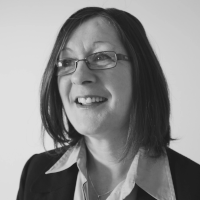 Lynne is an instructional designer with over 20 years' storyboarding experience. Her current areas of interest are mobile learning and exploring how cognitive theories of learning can create better learner experiences.
By clicking subscribe you consent to receiving our monthly newsletter. For more information read our privacy policy.