Pick a number… What should the GDPR fine be?
Arguably the reputational damage done to Facebook and the ensuing #deletefacebook campaign in the wake of its recent data scandal will hit it much harder than any fine imposed by regulators.
But, at a time when the GDPR's bumper fines are making waves, does anyone want to take a guess what the final figure might have been if Facebook was fined post-GDPR?
What do you think the GDPR fine should be? Tweet us your thoughts @iSkillcast.
Here are the main factors that are taken into account when deciding on the amount of the fine under the GDPR:
The gravity, nature and duration of the infringement, the number of people affected and the level of damage they experience - it's hard to justify Facebook's actions here:



Facebook was warned about the breach in 2015 but did not warn users or carry out an audit to confirm that personal data had been deleted
50 million Facebook users are affected
Damage - embarrassment, loss of trust, voter manipulation even?

Categories of personal data affected - if the allegations are proven, special category (sensitive) data - ie voting preferences - might also have been misused.
Whether the infringement is negligent or intentional - hard to say, but Facebook certainly failed to have proper control over third parties or chose to ignore what they were doing.
The action taken by the controller to mitigate the damage - Facebook was slow to react back in 2015 and simply allowed firms to self-certify that personal data had been erased without auditing them properly.
The degree of responsibility of the controller or processor - Mark Zuckerberg has faced a barrage of criticism over his silence, with the academic claiming he has been made a scapegoat.
Any relevant previous infringements - well, that's tricky as Facebook already has form for its cavalier attitude to user data - as evidenced by its WhatsApp data sharing and €1.2mn fine by the Spanish data authorities.
The degree of cooperation with the supervisory authority - admittedly, Facebook "ceded to the ICO to allow its investigation" but only after it had already visited Cambridge Analytica's premises when the scandal broke.
Aggravating or mitigating factors (eg financial benefits gained from the infringement) - anyone care to look at Facebook's ad revenues for the period? Did it also benefit from Kogan's sale of data to Cambridge Analytica?
Interestingly, Mark Zuckerberg has since claimed that his 'idealistic vision of data portability' may have stopped him focusing earlier on privacy matters. In an era where portability is fast gaining traction, perhaps the Facebook scandal is only the beginning? Exactly what are we prepared to trade and with whom?
Finally, with Facebook's value dropping $50bn and its reputation at an all-time low, maybe the size of any fine is afterall immaterial? But, it's a wake-up call for all companies that shows none of us can afford to be complacent about data protection.
Want to know more about GDPR?
We have created a glossary of GDPR definitions to help you navigate GDPR and DPA 2018 compliance. And we also have 50+ free compliance training aids as well as regularly publishing informative GDPR blogs.
If you're looking for comprehensive compliance training, why not visit our GDPR course library.
If you've any further questions or concerns about GDPR, just leave us a comment below this blog. We are happy to help!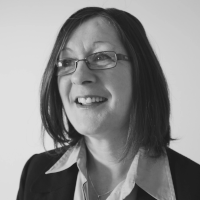 Lynne is an instructional designer with over 20 years' storyboarding experience. Her current areas of interest are mobile learning and exploring how cognitive theories of learning can create better learner experiences.
By clicking subscribe you consent to receiving our monthly newsletter. For more information read our privacy policy.