UK Prime Minister, Theresa May, vowed to lead the fight against modern slavery in a bid to rid the world of an act she has described as "barbaric evil."
This bold statement comes from an article she wrote for The Sunday Telegraph, shortly after moving into No. 10 Downing Street. In the article, which was published on July 31st 2016, Mrs May stated that as part of her role as Prime Minister, she would be setting up the first ever government task force on modern slavery.
Abolishing modern slavery is a subject she clearly feels passionate about. In her previous capacity as the Home Secretary, Mrs May pushed through the Modern Slavery Act 2015 - the first legislation of its kind in Europe. Under the Act, all large UK companies with an annual turnover of £36 million or more are obliged to produce a yearly Modern Slavery Statement, which should highlight the measures they have in place to ensure slavery isn't happening within their supply chains.
Since the Modern Slavery Act has been in force, there have been 289 modern slavery offences prosecuted and a 40% rise in the number of victims identified by the state.
How will this new government task force help fight modern slavery?
According to The Sunday Telegraph article, Theresa May has pledged to ensure that:
Regular meetings will be held at Downing Street with ministers and relevant departments to "get a real grip of modern slavery and co-ordinate and drive further progress in the battle against this cruel exploitation."
The HM Inspectorate of Constabulary will carry out an investigation to make sure that all police forces in England and Wales "treat this crime with the priority it deserves."
There will be collaboration with law-enforcement agencies across the world to track and stop the gangs who engage in modern slavery.
Over £33 million from the aid budget will be invested to create a five- year International Modern Slavery Fund focused on high-risk countries, from where victims are regularly trafficked to the UK.
Want to know more about Modern Slavery?
As well as 30+ free compliance training aids, we regularly publish informative Modern Slavery blogs. And, if you're looking for a compliance training solution, why not visit our Compliance Essentials course library.
If you've any further questions or concerns about Modern Slavery, just leave us a comment below this blog. We are happy to help!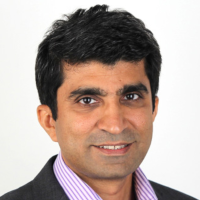 Vivek Dodd MS, CFA is a Director of Skillcast. He has helped hundreds of companies to meet their mandatory compliance training requirement using e-learning courses and tools. His special interest is instructional design and the use of asynchronous learner interactions to effect behavioural change. He is a speaker on compliance training conferences, writes articles on compliance training and e-learning in various journals.