Why is it important to know your rights under GDPR?
The General Data Protection Regulation (GDPR) is due to be implemented in May 2018 and is expected to bring with it a complete overhaul of data protection laws as we know them.
GDPR will affect every organisation that processes the personal identifiable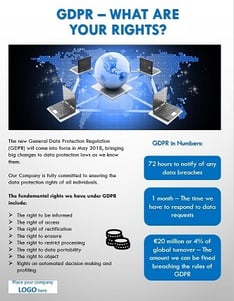 information (PII) of EU residents, as well as organisations outside of the EU who provide services to EU businesses.
One of the key areas of change is more rights for individuals, such as the right to be forgotten and rights on automated decision making and profiling.
It is critical that your business and your employees are aware of these rights to ensure complete compliance of GDPR.
Skillcast's free GDPR poster features the fundamental rights we have under this new regulation along with some key statistics. Simply fill out the form, download and display in your office!
"I would like to pass on my sincere thanks for all of your efforts. We are really happy with the service we have received from Skillcast. The quick turnaround of the individual tasks and the responsiveness to last minute changes and technical fixes have all been delivered on. This has been by far the most straight forward and pleasant e-Learning supplier experience I've ever worked on." Lynette Burns