Why is information security so important?
Every day we generate and consume huge amounts of information which seem to be increasing more and more each day. Much of this information is of great value to businesses. However, in the event that it is lost or stolen, or you suffer a security breach, the consequences can be devastating.
In order to reduce the risk of your business falling victim to data security breaches, it is imperative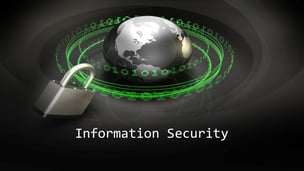 that you encourage your employees to take extra care to safeguard confidential information, whether it be personal or valuable.
Our 20 minute interactive powerpoint presentation is designed to do just that. As well as explaining the impact that lost data would have on your company, it also describes the risks and consequences of losing data, as well as giving a range of examples of when it all goes wrong.
The key points covered are:
"I would like to pass on my sincere thanks for all of your efforts. We are really happy with the service we have received from Skillcast. The quick turnaround of the individual tasks and the responsiveness to last minute changes and technical fixes have all been delivered on. This has been by far the most straight forward and pleasant e-Learning supplier experience I've ever worked on." Lynette Burns