Checklists for business travel
Business trips can be stressful, especially if you're going to a country you are unfamiliar with, and can lead to compliance issues.
Skillcast's E-book on Business Travel Security will take all that stress away by giving you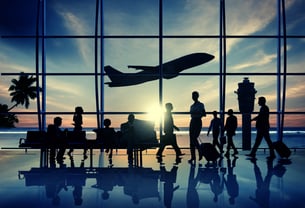 17 checklists to make sure you are as prepared as you can be when travelling overseas on business. All you need to do is follow our checklist and you're set to go!
From those initial preparations, to how to respect and adhere to local customs, as well as dealing with emergency situations - we have it all!
Important note: Whilst we've taken due care in producing these checklists, you must review them carefully and ensure that they are relevant for your organisation and your business. By downloading this document you agree that Skillcast bears no responsibility for any loses or breaches arising out of the use of these checklists.
Some of the areas covered in our checklist include:
Preparing to travel
Booking policy and procedures
Data security as you travel
Final preparations before departure
Airport safety
Luggage
On the way
On arrival
Staying safe at your hotel
Travelling by car or taxi
Hiring a car
Staying healthy
Security for female travellers
Dealing with emergency situations
In the event of natural disasters
Anti-kidnapping measures
After your trip
"We have had very positive feedback from users that they found the modules very interesting, informative and educational, yet not in a boring way! The format, look and feel were also complimented and commented on. So all in all, we are very pleased indeed!" Alison Moitysee