Help prevent accidents in the workplace with this free health and safety training presentation
According to statistics compiled by the Health and Safety Executive (HSE), 142 workers were killed at work between 2014 and 2015, with over 76,000 employees injured in their place of work.
Health and safety risks arise from hazards and it is important for your company and employees to be aware of potential hazards in order to prevent the risk of any accident happening.
We have compiled a training aid called 'Accidents can happen', which is an interactive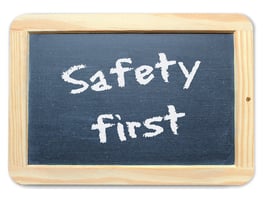 powerpoint training presentation designed to help your staff understand exactly why safety in the workplace is critical to a healthy working environment, as well as understand the responsibilities of both the employer and employee as set out by the Health and Safety at Work Act.
The key topics covered in this presentation are:
Why workplace safety is so important
Health and Safety statistics
Health and Safety law
Employer and employee responsibilities
Hazards and risks
Consequences of getting it wrong
"We have had very positive feedback from users that they found the modules very interesting, informative and educational, yet not in a boring way! The format, look and feel were also complimented and commented on. So all in all, we are very pleased indeed!" Alison Moitysee