What will your management team learn from this presentation?
Although the UK Equality Act has been in place since 2010, there are still many companies to this day who are falling short of complying with this legislation and are finding themselves in hot water with some pretty hefty lawsuits. It is crucial that your management team conduct themselves in such a way that promotes equality across the workforce and condemns any form of harassment and discrimination. In order for them to do this, they must first have a full and complete understanding of equality and diversity themselves.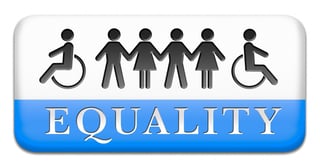 This powerpoint presentation template titled, 'Promoting Equality in Our Company', is specifically designed for managers. It gives clarity to the meaning of equality and diversity and will allow your team leaders and managers to brainstorm such ideas as, the impact equality has on businesses, as well as how equality is critical in creating a healthy working environment.
The key learning objectives of this presentation include:
What does equality and diversity mean?

What are the consequences of getting it wrong?

How can companies promote equality?

What are the 9 protected characteristics?

Our Company Policy
"I would like to pass on my sincere thanks for all of your efforts. We are really happy with the service we have received from Skillcast. The quick turnaround of the individual tasks and the responsiveness to last minute changes and technical fixes have all been delivered on. This has been by far the most straight forward and pleasant e-Learning supplier experience I've ever worked on." Lynette Burns