The World of Learning Conference & Exhibition holds great significance as the most comprehensive gathering in the UK dedicated to learning and development.

About World of Learning
Showcasing a wide range of solutions in everything from e-learning and mobile learning to experiential and classroom learning, the event is a one-stop shop for L&D professionals looking for a complete blend of learning solutions and inspiration.
The World of Learning conference features high-profile case studies from globally distinguished companies, interactive seminars and discussion forums, focusing on the current issues affecting L&D professionals and a look ahead to the future of workplace learning.
Skillcast at World of Learning
Skillcast will be at stand E30, giving away prizes to those playing our serious (but fun) bites game and showcasing our new Compliance Bites product.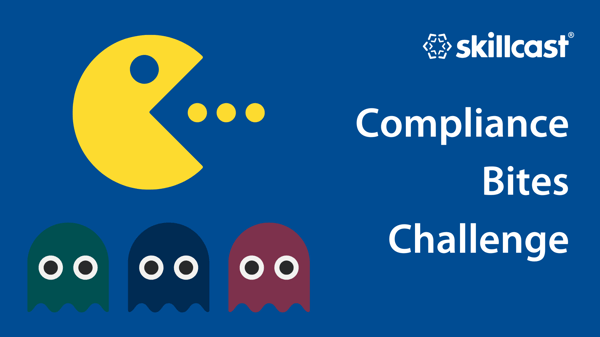 Compliance Bites are short videos on specific compliance issues, such as insider trading, special category data, tipping off and whistleblowing.
They bring these topics to life using animation, characters and storylines in just a few minutes, helping drive employee engagement while fitting into their busy work schedules.
Benefits of bite-sized courses
Engage employees with short modules they can easily fit into their schedule
Tackle issues faster with out-of-the-box modules that require no customisation
Improve knowledge retention by creating multiple touchpoints on key issues
Create personalised learning paths by combining modules
Make compliance more social and employee-driven
Dr. Martens' journey to success
Why make people do hours of the same kind of content year in and year out? Take a leaf out of Dr. Martens' book and turn your obligations around. Focus on what you need to know, not what you think will keep those boxes ticked.
At World of Learning, Skillcast will showcase how Dr. Martens does what it does best: thinking outside the box and breaking down the rules into what fits.
Seminar: A gamechanger for compliance training
Simon Truckle, Director of Learning Solutions, Skillcast, will be joined by Hannah Dix, Global Compliance Manager, Dr. Martens for a 30-minute seminar.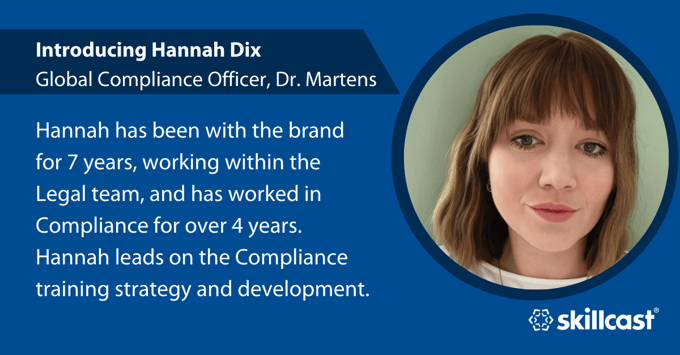 Location: Seminar Theatre 1, NEC Birmingham
Date: Wednesday, 11 October at 11.30am
Dr. Martens has partnered with our commitment to maintaining high regulatory and ethical standards. In this seminar, Skillcast will present the strategies and insights that shaped Dr. Martens' compliance success story, highlighting the importance of fostering a culture of compliance within a renowned brand.
Discussion topics
The catalyst behind the transformation of Dr. Martens' learning strategy
The initial measures implemented by Dr. Martens and crucial areas of emphasis
Real-life illustrations of content and methodology employed
Join us at World of Learning 2023
World of Learning takes place at NEC Birmingham, a five-minute walk away from Birmingham International Railway Station.
Location: Stand E30, NEC Birmingham, B40 1NT
Dates: 10-11th October 2023
Skillcast CRO at Learning Design Live
Catriona Razic, CRO, Skillcast, discusses how e-learning games can help organisations to better manage risk and compliance.
Want to find out more about gamified learning?
Gamified learning has helped many of our customers to identify strengths, weaknesses and a clear focus for future initiatives. If you'd like to learn more, we have a series of gamification blogs, case studies explaining how we helped Barclays, Société Générale and Royal Mail or and a gaming hub where you can try out one of our themed games.
Skillcast games present your employees with challenging propositions in a realistic context. Learners accept or reject each proposition with a click or swipe, losing lives for each incorrect answer and completing the game within a time limit. They are a fun and engaging learning tool with a serious purpose.
How games improve learning outcomes
Driving behavioural change
Boosting knowledge retention
Improving employee assessments
Highlighting competency gaps
More Skillcast Events
SkillcastConnect is our community bringing together compliance professionals for unique peer group networking free of vendors.
If you are interested in attending an event, you can see what's coming up on our Events Calendar.