With over 30 conference sessions and more than 70 selected speakers and facilitators, Learning Technologies aims to provide inspiration, information and provocation. Over 8,500 of your peers will be there, attending one of the 200 seminars or discovering cutting-edge learning technology solutions from the exhibitors - including Skillcast!
Our Valentine's themed 'Game of Love'
Our scenario-based serious games present your employees with challenging propositions in a realistic context. They can accept or reject each proposition with a click or swipe as they try to answer questions within the time limit without losing any lives. It is a fun way to reinforce the serious training that employees receive.

We asked delegates to prove their knowledge of l'amour in our Valentine's Game of Love to win an 'I Love Learning' T-shirt with the top scorers getting a box of Hotel Chocolat chocolates.




We had hundreds of enthusiastic players and some very happy winners!
We do #LoveLearning at #LT20UK thanks @iSkillcast for our tops and letting us trial your quiz game pic.twitter.com/IosvE5ocj4

— Victoria Whitehead (@vlstorey) February 13, 2020
You can join in the fun and play the game yourself by clicking the image below...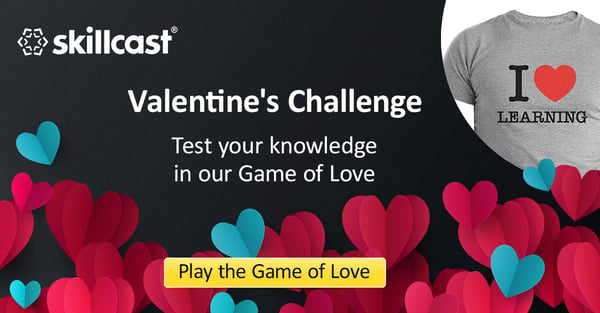 We showcased our Intelligent Learning solutions
Our Intelligent Learning approach focuses on the outcomes of a training programme. We help our clients to decide what they want to achieve and support them.
The four pillars of Intelligent Learning strategy
Personalised - Tailoring content to be relevant to each individual role
Adaptive - Ensuring that content is aligned to knowledge and competence
Gamified – Harnessing gamification to improve learning outcomes
Quantified – Enhanced data capture, providing actionable granular metrics
We have embraced these principles in a client project that has been shortlisted for a prestigious Learning Technologies Award at Learning Awards 2020.
What did the client need?
They needed to assess and benchmark competence to drive adaptive training content.
We used a gamified solution to:
Create a peer-to-peer comparison game that would engage and enthuse
Record detailed responses on 160 compliance scenarios
Enhance response data with confidence levels. Our innovative confidence capture process creates a true knowledge score that can provide gap analysis and drive future training.

What else was at Learning Technologies 2020?
The exhibition seminars and learning providers cover the latest in workplace learning:
Learning technologies - emerging technologies • collaborative learning • content authoring and design • e-learning strategy, technology and implementation • gaming, simulations and virtual worlds • learning management infrastructure, methods and systems • mobile learning • virtual classroom technologies
People development - management and business skills • leadership development • IT training and skills • culture and language • specialist skills • transformational learning
Learning and performance - business aligned learning • developing high performance teams • coaching and mentoring • learning engagement • organisational development • change management • integrated learning
Learning resources - content publishers • venues and training spaces • presentation equipment • learning aids
learning systems and services - performance management • talent management • assessment and appraisals • support systems • specialist learning systems • learning infrastructures
In fact, everything you will possibly need to be kept up to speed with all the latest in workplace learning and learning technology.
Want to find out more about gamified learning?
Serious games have been proven to drive behavioural change and improve knowledge retention. A quiz is just one example of a kind of a serious game, and can be a great asset to support compliance e-learning. Most people love a quiz. They make people think and add an element of competition, which drives up motivation levels.
Simon Truckle explains the real benefits of quizzes in this short video.
What is gamified learning?
Gamified learning has helped many of our customers to identify strengths, weaknesses and a clear focus for future initiatives. If you'd like to learn more, we have a series of gamification blogs, case studies explaining how we helped Barclays, Société Générale and Royal Mail or and a gaming hub where you can try out one of our themed games.
Skillcast games present your employees with challenging propositions in a realistic context. Learners accept or reject each proposition with a click or swipe, losing lives for each incorrect answer and completing the game within a time limit. They are a fun and engaging learning tool with a serious purpose.
How games improve learning outcomes
Driving behavioural change
Boosting knowledge retention
Improving employee assessments
Highlighting competency gaps
Isn't it time you added gamified learning to your compliance learning toolkit?