How to Stay Compliant with Sanctions Laws
Are you compliant with sanctions laws? We have tips on how to stay up-to-date with financial sanctions & avoid any hefty fines for your company.
Under powers introduced by the UK Policing and Crime Act, the Office of Financial Sanctions Implementation in the UK (OFSI) can impose civil penalties of up to £1 million for breaches relating to financial funds, or 50% of the estimated value of those funds (whichever is highest).

Key sanctions facts from HM Treasury
With this in mind, are you confident that your organisation can stay compliant?

Top tips to ensure compliance with sanctions laws
Provide information and training

– Your staff need to be clear about the rules and know what they must do to comply. You can do this by making it compulsory for your employees to complete an e-learning training course on Economic Sanctions.

Conduct adequate due diligence

– To ensure that you don't do business with designated persons (i.e. individuals and entities subject to sanctions).

Don't conduct any business that you know or suspect will breach sanctions.

Check the specifics -

Sanctions don't just apply to financial transactions and the freezing of assets. There may also be restrictions on the supply of services (such as giving advice) and trade (such as the supply of arms, diamonds, etc).

Don't do anything to circumvent company controls or assist clients to evade sanctions

- Make sure all payment processing is transparent. UNDER NO CIRCUMSTANCES should you remove material information from payment instructions (wire stripping), or arrange payment or supply through third parties.

Promptly report any matches to the Sanctions compliance team -

For further action, even if you think they may be false positives.

If you've made a mistake or suspect a breach has occurred, report it

quickly - Credit may be given for voluntary disclosures.

Don't be complacent

- Ignorance of the law is no excuse! Companies who are fined will be publicly named by OFSI.

Want to know more about Financial Crime?
As well as 30+ free compliance training aids, we regularly publish informative Financial Crime blogs. And, if you're looking for a risk management training solution, why not visit our Risk Management course library.
If you've any further questions or concerns about Financial Crime, just leave us a comment below this blog. We are happy to help!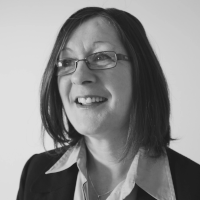 Lynne is an instructional designer with over 20 years' storyboarding experience. Her current areas of interest are mobile learning and exploring how cognitive theories of learning can create better learner experiences.
By clicking subscribe you consent to receiving our monthly newsletter. For more information read our privacy policy.