Feefo Platinum Trusted Service Award 2023
Once again, in 2023, Skillcast has been recognised as going above and beyond to provide consistently excellent service and being dedicated to acing customer experience as rated by real customers.
We earned the Feefo Platinum Trusted Service award by collecting 50+ reviews each year from customers rating our service over 4.5/5 in 2020, 2021 and 2022.
This a well-deserved endorsement for the hard work and dedication of our customer service team.
Recent award nominations
The NACFB is an association comprising over 2,000 commercial finance brokers covering the whole of the UK. Skillcast was shortlisted for their Industry Supplier of the Year 2021, which recognises the best in lending industry excellence.
Awards for our Learning Management System (LMS)
Top 20 Learning Management Systems for User Experience 2021
eLearning Industry has recognised Skillcast as providing one of the Top 20 Learning Management Systems on the market in 2021.
See the full Top 20 list.
Top 20 LMS based on Customer Experience 2021
Based on Customer Satisfaction, Experience and Expectation, eLearning Industry ranks Skillcast in the Top 20 Customer Experiences on the market in 2021.
Find out who else was in the Top 20.
LPI Learning Technologies Award Finalist 2020
Skillcast was shortlisted for a learning project using new or innovative learning technologies in groundbreaking and innovative ways. About this award.
Top 15 Learning Technologies 2019
The Learning & Performance Institute has recognised Skillcast in the top 15 highest-performing learning technologies. Find out why.
Top 20 Value for Money - LMS 2019
eLearning Industry has recognised Skillcast as one of the Top 20 Value for Money providers of LMS in 2019. Find out who else made the Top 20.
Customer feedback awards
Top 20 Customer Experience - LMS 2020
eLearning Industry has recognised Skillcast in the Top 20 LMS providers in terms of Customer Experience in 2020. Find out who else made the Top 20.
Feefo Gold Trusted Service Award 2019
Our Feefo Gold Service award is an independent seal of excellence recognising businesses for delivering exceptional service, as rated by real customers during 2019.
eLearningIndustry Community Reviews 2019
eLearningIndustry community members gave Skillcast 9/10 in their reviews during 2019.
Awards for the quality of our systems & processes
ISO 27001 - Information Security Management System
Skillcast's content development, portal, delivery infrastructure and processes have been accredited with the ISO 27001 Information Security Management System (ISMS) certification. (Certificate. No. 14130140)
ISO 9001 - Quality Management System
Our externally audited ISO 9001 Quality Management System helps us to maintain the high standards of design and project management that our clients have come to expect from Skillcast. (Certificate No. 14126850)
ISO 14001 - Environmental Management System
Our externally audited ISO 14001 Environmental Management System shows our commitment to reducing the impact of our business on the environment.
(Certificate No. 14126851)
Compliance Register Platinum Awards 2019
The 2019 Compliance Register Platinum Awards were held at the fabulous Park Plaza Riverbank in London to recognise 'Exemplary Service to Compliance and Regulation'.
Thanks to the support of our clients, we were shortlisted for both the Best Training Firm and Outstanding Firm of the Year. And we only went and won! Not one, but both.
Special thanks must go to the unsung heroes at Skillcast in both our Production and Customer Service teams. And we are grateful to our loyal customers for their nominations and support.
The Compliancer lists the Awards Categories, Award Winners and has more photos.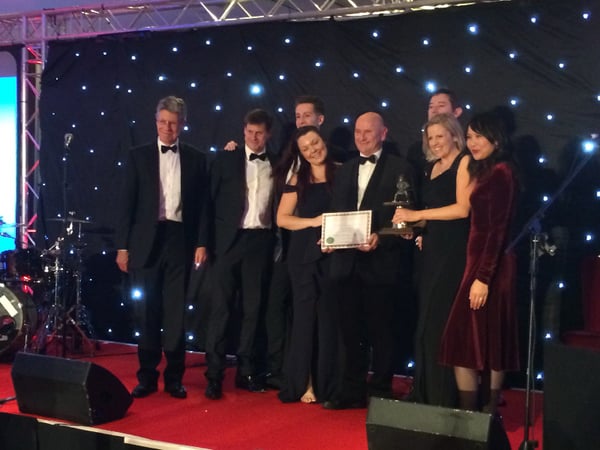 Skillcast helps companies to transform their culture with innovative compliance and learning interventions that are more engaging, more social, more mobile, more manageable and more cost-effective. We are grateful for the recognition given to us by our customers and respected industry bodies for our ongoing work in producing the best e-learning solutions supported by market-leading customer service.
Find out more about our award-winning solutions
To help you navigate the compliance landscape, we have created a series of comprehensive roadmaps supported by several e-learning courses.
We also have 100+ free compliance training aids, including assessments, best practice guides, checklists, desk aids, eBooks, games, handouts, posters, training presentations and even e-learning modules!
Finally, the SkillcastConnect community provides a unique opportunity to network with other compliance professionals in a vendor-free environment, priority access to our free online learning portal and other exclusive benefits.