What can your employees expect to learn from this presentation?
Although the Equality Act has been in place for since 2010, there are still many companies to this day who are falling short of complying with this legislation and finding themselves in hot water with some pretty hefty lawsuits. It is important that your company and your company's employees understand what equality and diversity means and know the regulations that are in place to protect individuals from falling victim to harassment and discrimination.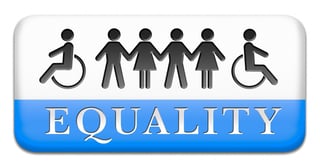 This powerpoint template titled, 'Promoting Equality in Our Company', will allow you to give a time-efficient presentation to all your team members and will give clarity to the meaning of equality and diversity. It will also give your staff the opportunity to brainstorm ideas such as, the impact equality has on businesses, as well as how equality is critical in creating a healthy working environment.
The learning objectives of this presentation include:
What does equality and diversity mean?

What are the consequences of getting it wrong?

How can companies promote equality?

What are the 9 protected characteristics?

Our Company Policy