How do you manage SM&CR compliance?
The FCA's Senior Managers and Certification Regime (SM&CR) represents a paradigm shift in regulatory compliance for the financial services sector in the UK. In response to this change, regulated firms need to train their staff and overhaul how they track staff compliance.
"SM&CR is a catalyst for change - an opportunity to establish healthy cultures and effective governance in firms by encouraging greater individual accountability and setting a new standard of personal conduct."
It takes dozens of checks across your entire population of senior managers and certified persons to conduct SM&CR. This is a daunting task that can consume an inordinate amount of management time.
This is why we created the SMCR 360® RegTech solution, a suite of compliance tools for streamlining your processes, automating your chase-ups that help you save time and effort.
Introducing the SMCR 360® suite of integrated compliance tools
SMCR 360 is a technology-based compliance solution that helps firms implement effective compliance and risk measures to deliver on their obligations under the Senior Managers and Certification Regime.


Our comprehensive SM&CR compliance solution draws on information from multiple sources to provide the complete profiles that you need for confidently submitting your senior managers for approval by the FCA, certifying your material risk takers and reporting overall compliance to regulators and auditors.
It conducts dozens of checks every day and alerts you to any overdue requirements and forthcoming tasks that you, or your senior managers and certified persons, need to attend to.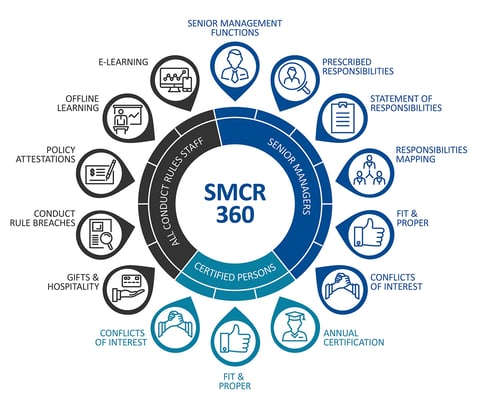 Skillcast's SM&CR compliance solution delivers:
Streamlined approval of senior managers and annual certification of material risk takers
Automated record keeping and chase-ups to save management time
Identification of all upcoming SM&CR-related tasks and potential compliance gaps
Readiness for audits, regulatory action and requests for regulatory references
Enforced consistency of record keeping throughout your firm
Improved accountability and management oversight
Senior manager register
Assign Senior Management Functions (SMFs)
Assign Prescribed Responsibilities (PRs) and other responsibilities as appropriate
Maintain up-to-date Statements of Responsibility (SoR) and handover notes
Generate Responsibilities Maps
Access comprehensive individual profiles including records of training, attestations, FPQ, CMQ and breaches
Keep a comprehensive log of all assignments and changes
Generate regulatory references
Create alerts for upcoming tasks and potential compliance gaps
Certified persons register
Conduct fit and proper assessment and certification
Keep a comprehensive log of all assignments and changes
Access comprehensive individual profiles, including all records and certificates
Create alerts for upcoming tasks and potential compliance gaps
Create alerts for annual re-certification
Generate regulatory references
Gifts and hospitality register
Record gifts and hospitality that are offered and received
Implement policy thresholds for automatic approval
Conduct rule breach register
Record and report conduct rule breaches
Record disciplinary actions
Offline training register
Record formal training sessions as well as informal advisory sessions
Automate dual confirmations to provide robust evidence
Record CPD points


Policy hub
Maintain all compliance polices including those related to SM&CR
Require attestation of policies
Track completions and send automated chase-ups
Fit & proper questionnaire
Collect all the information required by the FCA and more
Track completions and send automated chase-ups
Create alerts for all possible non-compliance issues ahead of assessment
Conflicts management questionnaire
Customise to your business activities
Track completions and send automated chase-ups
Create alerts for any conflicts of interest that need attention
Skillcast Learning Management System