Over 100 compliance professionals gathered for some thought leadership followed by award-winning comedy, food, drinks and vendor-free networking.
Compliance Summit Agenda
Session 1: Introducing SkillcastConnect
Following discussions and feedback from our customers and the wider compliance profession, it became clear that there are shared goals and aspirations. And that many of us share familiar challenges.
That's why we've created SkillcastConnect. It will bring the compliance community together to share ideas, discuss challenges, find solutions and create best practices.
If you are interested in joining our community, you can find out more on our dedicated SkillcastConnect page.
Session 2: ESG Panel with Q&A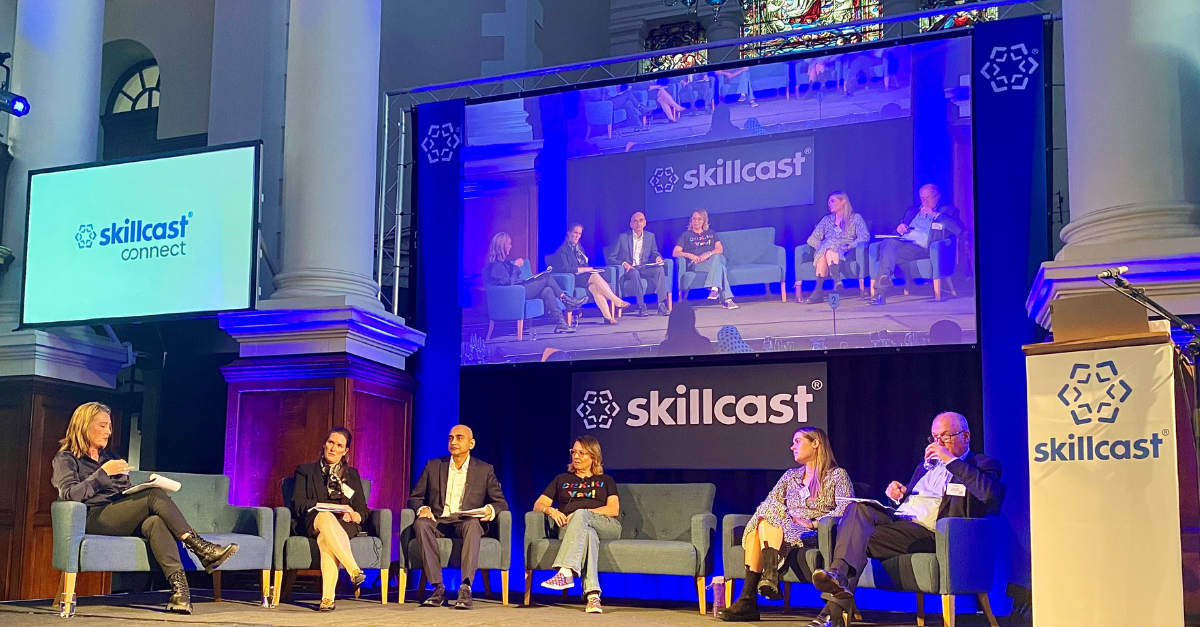 From 2022, over 1,300 of the largest UK companies and fin institutions need to start disclosing their climate-related financial information. These changes to the law will help investors be much more informed about the impact their investments, products and services are having on the planet.
This is why there was no better time for us to dive deeper into ESG, especially as the decisions made by today's governments, industries and businesses have the potential to directly shape the future of our environment for future generations.
We brought together a panel of experts to discuss the challenges in creating and delivering an ESG strategy.
Panel Members
Claire Louise Noyce, CEO, Hybridan LLP
Arun Kelshiker, CIO, Cambridge & Orion
Shelley Schachter-Cahm, CCO, CEX.io
Emma Mundy, Sustainability Professional, World Wide Technology
Chris White, CIO, Whiteboard
Discussion Points
The panel shared their views on some of the key topics in the ESG arena, including:
Why is ESG so important right now, and what should we be thinking about?
How are CCOs approaching ESG?
Is there a standardized approach to managing ESG?
Are all aspects of ESG equal?
Where is a good place to start your ESG strategy?
Does the investment in a decarbonized economy create an ESG opportunity?
Should we have publicized targets such as net zero?
Can we trust the data from ESG agencies?
What are high-profile examples of greenwashing?
Gen Z, Gen X and Millennials consider ESG when job-hunting, how will this impact senior management and recruitment?
Should ESG be seen as a single entity, or is it so complex it should be split?
How do you think ESG will evolve over the next 10-15 years?
We ended the discussion with a short Q&A session.
Session 3: ESG Benchmarking Survey Results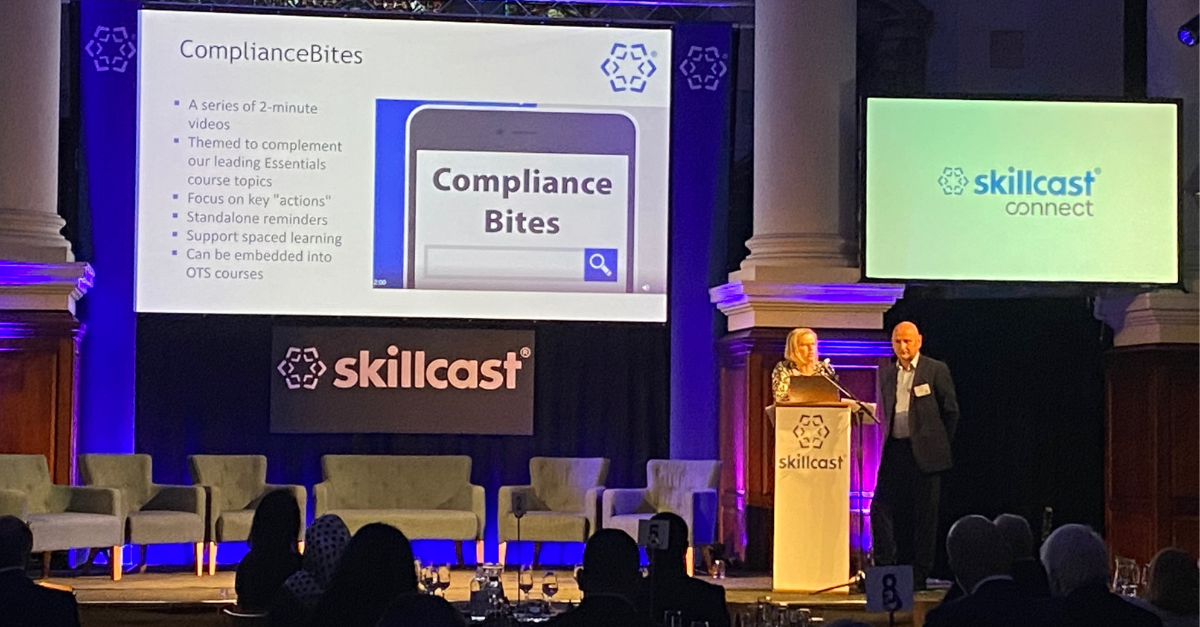 We asked key clients and compliance professionals some key questions to help us to benchmark the ESG landscape. It produced some interesting results, which we have summarised here:
Survey Highlights
68% had an ESG strategy, only half had promoted it to staff
53% had defined ESG data, yet only half regularly collected it
Only a third collect data on diversity attitudes or demographics
Session 4: Tools for data-driven ESG
Skillcast has been working in partnership with leading industry experts to align our ESG digital solutions with the standards led by the TCFD guidance.
We showcased some of the solutions we have on our ESG roadmap to help you gather unbiased data to inform and evidence your ESG programme.
Company Policies
Policies are the bedrock of ESG. They establish the values, behaviours and ethics that define your culture and set a recognisable benchmark for you to hold your workforce accountable to.
Targeted Learning
Once you have your policies in place, you need to make sure the behaviours are understood and are being acted upon.
Staff Declarations
Using email or paper-based declarations processes is slow, inefficient and creates unnecessary duplication. And making sure that they are completed on time is an ongoing headache.
Employee Surveys
If you are setting a strategy for Diversity, Equality and Inclusion without capturing unbiased employee feedback, your compliance programme is effectively flying blind.
Compliance Registers
Maintaining registers is a key aspect of compliance. These could be for data breaches, conflicts of interest and donations to gifts and hospitality.
Session 5: New Compliance Training Solutions
FastTrack E-learning
Employees who already have an understanding can suffer from training fatigue and feel disengaged. Importantly, unnecessary training wastes staff time and company money.
That's why we are launching fast-track courses that reward the knowledge of your experienced staff. Our FastTrack option allows experienced employees to prove their understanding of a topic through a quick pre-course assessment. If they pass, get a quick refresher. If they fail, they must complete the full course, including the post-course assessment.
FastTrack Courses
Anti-bribery Training
Anti-money Laundering
Bribery Prevention
Competition Law
Data Protection
Fraud Prevention
Information Security
Market Abuse
Modern Slavery
ComplianceBites
Compliance Bites are ultra-short videos on specific compliance issues, such as Insider Trading, Special Category Data, Tipping Off and Whistleblowing.
Their objective is to engage and inform your employees about the topic, not to provide an in-depth study. This makes them more appealing to your employees and improves the uptake of compliance training.

They can be deployed as standalone, within standard-length e-learning modules or compiled into our Compliance Portal learning paths.
We are building a library of Compliance Bites and plan to release them towards the end of this year.
Session 6: BAFTA short-listed Bennett Arron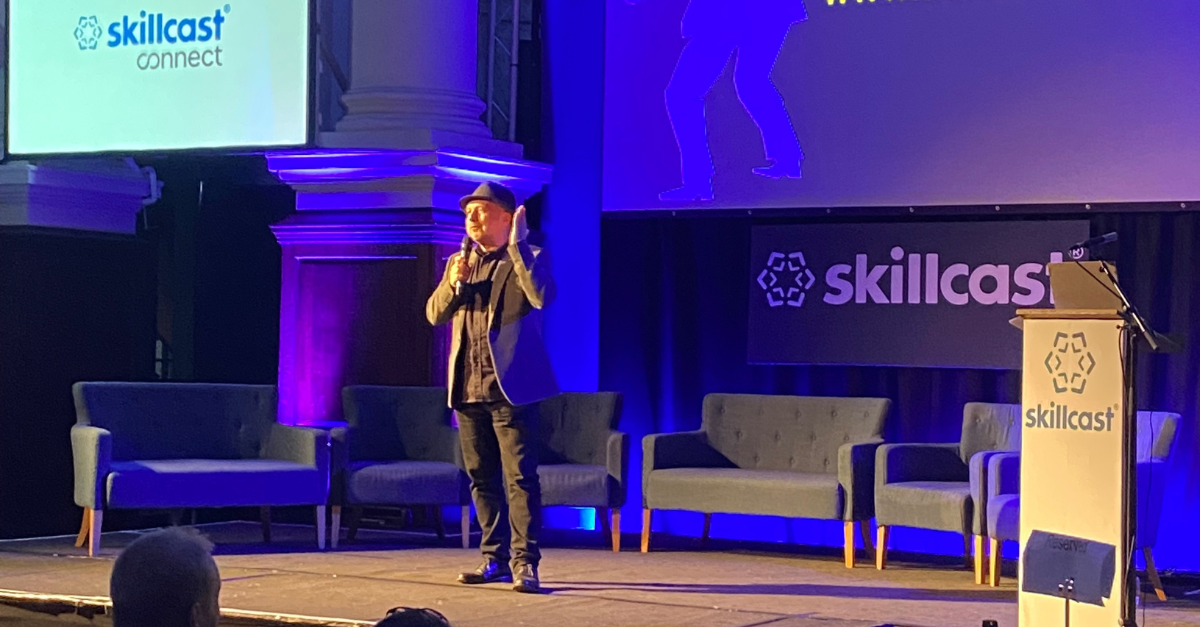 We ended the event on a more light-hearted note with comedy from BAFTA short-listed, Bennett Arron. He has appeared as a Fraud Expert on Sky, Channel 4, ITV and the BBC, and he recently received an "Unsung Hero Award" for his work in Fraud and Cyber Security.
Several years ago, comedian Bennett Arron was in serious debt. He owed thousands to phone companies, banks and department stores. Only it wasn't him. Bennett had become the first major victim of Identity Theft in the UK. It left him penniless and homeless.
Bennett decided to turn that frown into a smile by writing a comedy show about his ordeal that was critically acclaimed at the Edinburgh Festival. This led on to a Channel 4 Documentary on the subject, 'How To Steal An Identity' which was short-listed for a BAFTA.
Looking for more compliance insights?
We have created a series of comprehensive roadmaps to help you plan and execute compliance in your organisation.
Our best-selling Compliance Essentials Library and award-winning LMS provide a one-stop compliance training solution, including compliance refresher courses.
And our searchable compliance glossaries explain key terms and regularly report on learnings from the largest compliance fines resulting from regulatory breaches.
We also have 100+ free compliance training aids, including assessments, best practice guides, checklists, desk aids, eBooks, games, posters, training presentations and even e-learning modules!
If you'd like to stay up to date with compliance learning best practices, industry insights and key trends across regulatory compliance, digital learning, EdTech and RegTech news, subscribe to the Skillcast Compliance Bulletin.
Last but not least, you can interact in person with thought leaders and your peers at one of our popular live webinars and face-to-face events.
If you've any questions or concerns about compliance or e-learning, please get in touch.
We're happy to help!