Skillcast at World of Learning 2019
Skillcast are hosting a 30-minute seminar at World of Learning (#WOL19) the UK's most comprehensive event for all aspects of learning and development.
About World of Learning 2019
Showcasing a wide-range of solutions in everything from e-Learning and mobile learning to experiential and classroom learning, the event is a 'one-stop-shop' for L&D professionals looking for a complete blend of learning solutions and inspiration.

The World of Learning conference features high-profile case studies from globally distinguished companies, interactive seminars and discussion forums, focusing on the current issues affecting L&D professionals and a look ahead to the future of workplace learning.
Seminar: Using the SCORM model to embed serious games within e-learning programmes
Skillcast CCO and Co-founder, Catriona Razic will be joined by Simon Truckle our Head of Consultancy for a 30-minute seminar at Learning Design Live.
We will be explaining how you can successfully build serious games that use the SCORM model to communicate with Learning Management Systems.
How our approach drives user engagement and adaptive content
To illustrate the concept, those attending will be able to play our World of Learning Challenge, and we will be sharing live results and insights from the audience's game play.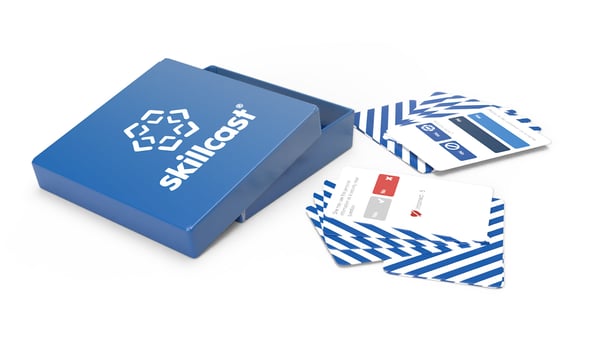 Learning Design Live is specifically for anyone involved in learning tech design. It delivers in-depth advice and allows you to share ideas with other design specialists. The seminars explore and uncover the hottest trends within the Learning Design industry.
Want to join us?
Our free-to-attend seminar is on Wednesday 16 October at 2.30 pm you can find us in the Learning Design Live Theatre & Lounge. We recommend arriving 10 minutes early to secure a seat.

Tickets for the exhibition are free, you can register here.
Our World of Learning serious game
At the event Skillcast will be showcasing our serious game based around appropriate use of personal information and social media in the workplace.

Those who score high enough will earn an "I ❤ Learning" t-shirt.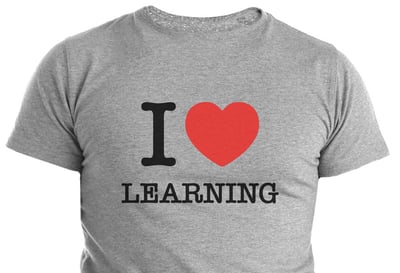 Our clients, including Royal Mail have found game to be incredibly useful in helping to identify strengths and weaknesses as well as offering a clear focus for future initiatives.
Timings
Tue 15 October: 10:00 – 17:00
Wed 16 October: 10:00 – 16:00
Location
NEC, North Ave, Marston Green, Birmingham, B40 1NT
Directions & Map
Here's a few of last year's attendees:
ACS, Group HR Director
Alfa Financial Software Ltd, L&D Manager
AstraZeneca, Global Director, Leader & Enterprise Development
BBC, Head of Learning Design
Boots UK, Senior L&D Manager
Bosch UK, Training & Development Specialist
Capgemini, Learning Director and Innovation Lead
Capital One, Head of L&D
Costa Coffee, Global Learning Design Manager
Crownpaints, Learning and Developments Manager
Daniel Swarovski Corporation, Senior Global L&D Coordinator
Deloitte Switzerland, Chief Learning Officer
Deutsche Bank, Learning Manager
Dixonscarphone, Learning and Development Specialist
Domestic & General, Group Head of Learning, Development & Talent
Dominos, Learning and Development Manager
Ernst & Young, Learning Manager
Experian, Global Learning and Development Partner
GE, Lead Training Specialist
GSK, Learning & Development Manager
Heineken, Training Delivery Manager
Home Retail Group, Digital Designer
Honda Motor Europe, European Training Department Manager
HSS Hire Group PLC, Head of Learning & Development
Iceland Food Ltd, Head Office Training Manager
Jaguar Land Rover, Head of Capability Development
KPMG, Senior L&D Manager
Kwik-fit, National L&D Manager
L'Oreal, Director of Learning
lastminute.com group, EMEA Training & KB Manager
Legal & General, L&D Manager
McDonald's Restaurants, Learning Technology Development
Multiplex, Head of HR
Nando's, L&D Technology Manager
O2 UK, Learning Content Design and Development Manager
Porsche Cars Great Britain, People Excellence Manager
Ralph Lauren, L&D Manager
Sanctuary Group, Group Head of Learning and Development
Siemens, Training and Development Officer
Soho Coffee Co, Operations Training Manager
Sonoco-Trident, Global L&D Manager
Specsavers, Senior Learning & Development Partner
Squire Patton Boggs, Global Technology Training Manager
Stannah Group, Group L & D Manager
Superdry, Learning and Development Manager
Sytner Group, Head of Learning & Development
Travelodge, Head of L&D
Watches of Switzerland Group, Group Head of L&D
Wilko, Senior Talent and Performance Manager
Xerox, Head of Global Sales Learning
Zurich, Learning and Development Manager
Want to find out more about Serious Games?
Serious games have been proven to drive behavioural change and improve knowledge retention. A quiz is just one example of a kind of a serious game, and can be a great asset to support compliance e-learning. Most people love a quiz. They make people think and add an element of competition, which drives up motivation levels.
You can watch my explanation of the the real benefit of quizzes is in the video below.

We regularly blog about key developments in both learning theory and our LMS.
As well as 30+ free compliance training aids, we regularly publish informative Compliance blogs. And, if you're looking for a compliance training solution, why not visit our Compliance Essentials course library.
If you've any further questions or concerns, just leave us a comment below this blog. We are happy to help!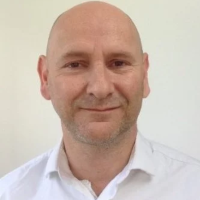 As Head of Consultancy at Skillcast, I am responsible for ensuring that our partners achieve the best return on their e-learning investment. He helps our clients navigate every stage of the learning development process, from risk assessment through to audit, while personalising the approach to the needs of their organisation. Simon was previously Head of eLearning at Barclays Wealth and Gerard Asset Management, responsible for delivering hundreds of courses to thousands of employees.
By clicking subscribe you consent to receiving our monthly newsletter. For more information read our privacy policy.