About World of Learning
Showcasing a wide range of solutions in everything from e-learning and mobile learning to experiential and classroom learning, the event is a one-stop shop for L&D professionals looking for a complete blend of learning solutions and inspiration.

The World of Learning conference features high-profile case studies from globally distinguished companies, interactive seminars and discussion forums, focusing on the current issues affecting L&D professionals and a look ahead to the future of workplace learning.

Learning Design Live is a distinct area of the event specifically focused on learning tech design. It delivers in-depth advice and allows you to share ideas with other design specialists. The seminars explore and uncover the hottest trends within the Learning Design industry.

Seminar: Using the SCORM model to embed serious games within e-learning programmes
Skillcast CCO and Co-founder, Catriona Razic was joined by Simon Truckle our Head of Consultancy for a 30-minute seminar at Learning Design Live.
We explained how you can successfully build serious games that use the SCORM model to communicate with Learning Management Systems.
How our approach drives user engagement and adaptive content

How our innovative use of confidence levels can feed into people analytics/competency mapping
Watch the seminar in full
Our World of Learning serious game
To illustrate the concept, those attending were invited to play our World of Learning Challenge, then the results were shared live with insights from the audience's gameplay.

The showcased game was based on the appropriate use of personal information and social media in the workplace. Those who score high enough will earn an "I Love Learning" t-shirt.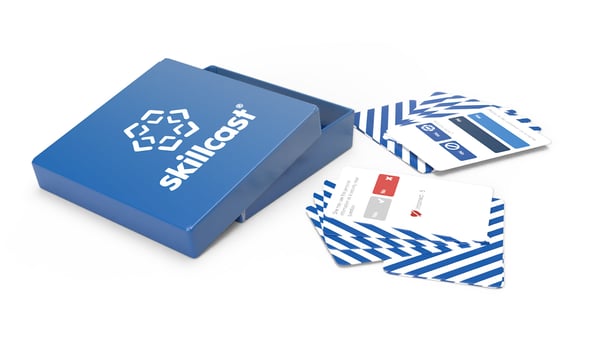 Want to find out more about gamified learning?
Skillcast clients, including Royal Mail, have found games to be incredibly useful in helping to identify strengths and weaknesses as well as offering a clear focus for future initiatives.
Our serious games are scenario-based, in which your employees are presented with challenging propositions in a realistic context. They can accept or reject each proposition with a click or swipe as they try to answer questions within the time limit without losing any lives. It is a fun way to reinforce the serious training that employees receive.

Serious games have been proven to drive behavioural change and improve knowledge retention. A quiz is just one example of a serious game and can be a great asset to support compliance e-learning. Most people love a quiz. They make people think and add an element of competition, which drives up motivation levels.
Watch an explanation of the real benefit of quizzes in this short video.
What is gamified learning?
Gamified learning has helped many of our customers to identify strengths, weaknesses and a clear focus for future initiatives. If you'd like to learn more, we have a series of gamification blogs, case studies explaining how we helped Barclays, Société Générale and Royal Mail or and a gaming hub where you can try out one of our themed games.
Skillcast games present your employees with challenging propositions in a realistic context. Learners accept or reject each proposition with a click or swipe, losing lives for each incorrect answer and completing the game within a time limit. They are a fun and engaging learning tool with a serious purpose.
How games improve learning outcomes
Driving behavioural change
Boosting knowledge retention
Improving employee assessments
Highlighting competency gaps
Isn't it time you added gamified learning to your compliance learning toolkit?