Best Practices When Creating Bespoke E-learning Content
Engaging an e-learning company to develop bespoke content can deliver great results. But failing to plan before you do can cost you a lot in terms of money, results and reputation.
Best practices when creating bespoke e-learning content
Establish your objectives – By this, we don't mean 'I need a module on Bribery/Anti-Money Laundering/Ethics', or whatever you happen to need. Rather, spend a little longer thinking about what you actually want learners to be able to do once they've completed the course. For example, "I want them to know what our policy is…", "I want them to be able to apply our rules…", "I want to raise their awareness of our resources…", "I want them to take action to comply…".
Identify your target audience – For example, who is this course aimed at? What is their job role? What is their level of experience? Are they new recruits, people who've worked here for some time, or a mix? What do they know already? This is vital – after all, we don't want to waste time telling your most experienced people basic entry-level things.
Identify and sift appropriate resources – While it may be tempting to do a 'content dump' and throw everything that's ever been written on the topic internally (yes, and sometimes externally!) at course developers, try to be more… well, objective. If it's not part of your objectives then it's redundant.
Consider the 'bigger picture' – Think about where the current module fits into your overall training landscape. For example, is it part of a suite that ideally needs the same 'look and feel'? Or are you hoping for a new look – to make learners take more notice? Is it a refresher module? Is it only aimed at a selected audience?
Discuss and agree priorities, goals, scope and expectations with stakeholders - It's an obvious point but you'll need to agree the scope and expectations with key stakeholders and get signoff. The development process is much smoother where clients have already thrashed out and agreed priorities and goals. You'd be surprised how often delays can be experienced even after the course is built because of disagreements within the team.
Set a clear direction and take a good look around first – E-learning comes in different shapes and sizes. We want you to be happy with what you get. So, check out our demonstrations, ask to see more of them, talk to us, visit our offices… we're happy to help. By knowing what's possible, you can make a better decision about what you want.
Want to know more about Compliance?
As well as 50+ free compliance training aids, we regularly publish informative Compliance blogs. And, if you're looking for a compliance training solution, why not visit our Compliance Essentials course library.
If you've any further questions or concerns, just leave us a comment below this blog. We are happy to help!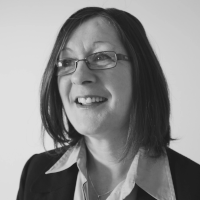 Lynne is an instructional designer with over 20 years' storyboarding experience. Her current areas of interest are mobile learning and exploring how cognitive theories of learning can create better learner experiences.
By clicking subscribe you consent to receiving our monthly newsletter. For more information read our privacy policy.