In our recent webinar with Katharine Leaman, Charles Kerrigan, Daiman Baker and Shelly Schachter-Cahm, we focused on the future UK crypto assets regulatory regime.
We continued the discussion at our lunch clinic at the CMS office, where we unpacked the FCA's commitment to review registered crypto assets firms' compliance with AML rules.
Background
The FCA has highlighted three priorities in its 2023/24 business plan:
Reducing and preventing serious harm
Setting and testing higher standards
Promoting competition and positive change
Using this as the foundation, we looked at navigating the regulatory landscape for crypto assets.
Discussion points
We had a great session exploring the regulatory framework proposed by the UK for digital assets and the most recent developments in anti-money laundering regulations. There was significant conversation around the direction of travel for crypto assets regulation, particularly in the UK, given the election due in 2024.
We addressed the above priorities, what these mean for firms and the regulator's expectations. The lunch clinic session allowed us to investigate the scope of the regulatory regime as it pertains to crypto assets as well as the global regulatory landscape for crypto assets and how that has been evolving.
We delved into the essential strategies and practices for registering with the FCA and the potential compliance evaluations that registered crypto asset firms may encounter. We also considered success stories and use cases.
Blockchain data platform, Chainalysis went on record when it gave evidence to UK Parliament in the middle of last year, stating, "It is a common misconception that crypto assets are predominantly used for illicit activity." They counter that with a graph based on their research: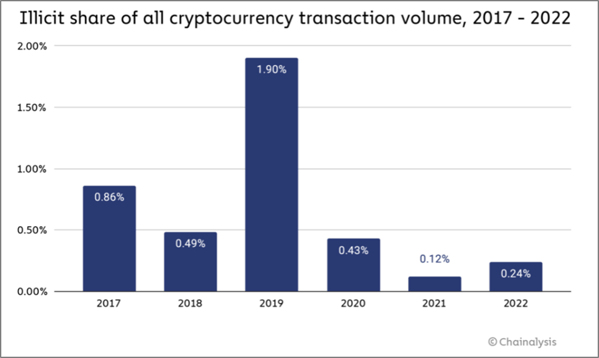 Poll results
It was interesting to find during the webinar discussion and through poll questions that our compliance community is engaging more in crypto assets. In our webinar, we asked our audience a few questions to better understand the engagement level in crypto assets. Here is one of the key results from the session: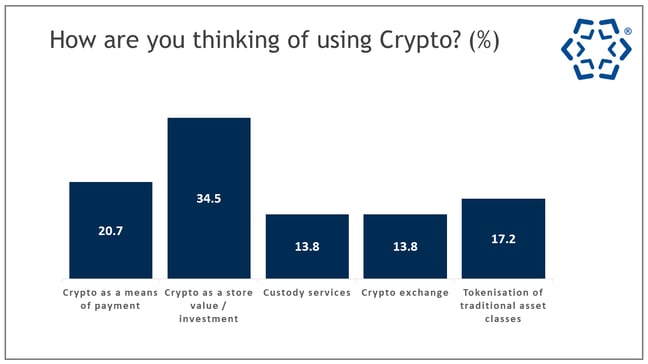 Key takeaways
Some of the main takeaway points include the following:
There is a global regulatory agreement that we must not allow crypto assets to be used for financial crime and must protect consumers from harm.
It's crucial to have a solid grasp of the regulatory environment before diving into the world of crypto assets. Don't take any shortcuts, and ensure you're fully aware of the rules and regulations.
When discussing crypto assets, it's important to confirm that your audience comprehends the concepts and don't hesitate to provide a basic introduction if necessary.
It's important to keep in mind that your regulator plays a crucial role in your business. Don't be tempted to opt for the simplest regulations without considering the bigger picture.
The FCA contacts firms based on their website or social media, so it's important to ensure that the information on these platforms is accurate.
A key driver of the incoming UK regulatory regime is the number of scams - this is at the root of why crypto asset regulations are needed.
The US is the least favourable environment for crypto assets, with the Middle East being the most favourable. Europe sits somewhere in between. Most firms shun those that choose the easiest regulatory environment.
Finally, here's an interesting report which was produced for UK Finance to help people working at financial institutions understand what crypto assets are and how they fit into traditional markets.
What's next?
We want to invite our community of financial professionals to register for our Shaping Digital Markets webinar on 19 July, where we will discuss the rise of digital technologies and their impact on financial markets.
Our panel of industry experts will unpack the role of the FCA in enabling a digital landscape that is secure for consumers and the importance of customer-centricity in digital transformation. This will make for an insightful session on digital disruption in the financial sector. If you have any questions, please get in touch.

Looking for more compliance insights?
SkillcastConnect is our new community bringing together compliance professionals for unique peer group networking free of vendors.
As members of our unique and complimentary community, you can join our live webinars and face-to-face events to interact in person with thought leaders and your peers and access hundreds of digital resources on a variety of compliance, learning, and regulatory topics to support you and your teams along your journey. Join the discussion!