We are investing the funds raised from our IPO in product enhancements to maintain our leadership in the market for digital compliance transformation.
Skillcast operates in the $10 billion markets for governance, risk and compliance software, which is undergoing a structural shift. Companies are turning to cloud-based solutions to digitise staff training and other compliance processes and considering the use of AI and big-data analytics.
Why did Skillcast list on AIM?
Skillcast provides content and technology to help companies educate employees, and record, monitor, analyse and evidence activities for legal, regulatory and standards. We help our clients build more ethical, inclusive and resilient workplaces fit for an increasingly hybrid working world.
We are investing the funds raised through our listing on the London Stock Exchange in December 2021 in our technology and content IP and promoting our solutions to build on our leadership position.
With a strong balance sheet, the breadth and depth of products and a team that is passionate about helping clients address their workplace issues, we are well placed to deliver on the growth plans we set out at our IPO.
What impact is the new investment having?
Since our IPO, we have hired new talent in key roles to accelerate our development plans. We are enhancing our products with new features and integrations to improve customer and user experience.
We now serve over 1 million users at over 850 companies in the UK and the EU. We help clients digitise staff training, policy attestations, surveys, staff disclosures, CPD tracking, and compliance registers for gifts, hospitality, regulatory breaches etc.
You can read about the impact of our award-winning products and services in our annual report from the perspective of some well-known brands:
Our 2021 results at a glance
In 2021, our revenues were up 15% and our subscription revenues up 28%, leaving our balance sheet stronger than ever. These results were driven by our dedication to customer service and product innovation to improve user experience, reduce costs and lower the risk of compliance failures.
The full Annual Report is available within the Investors area of our site, on the company documents page.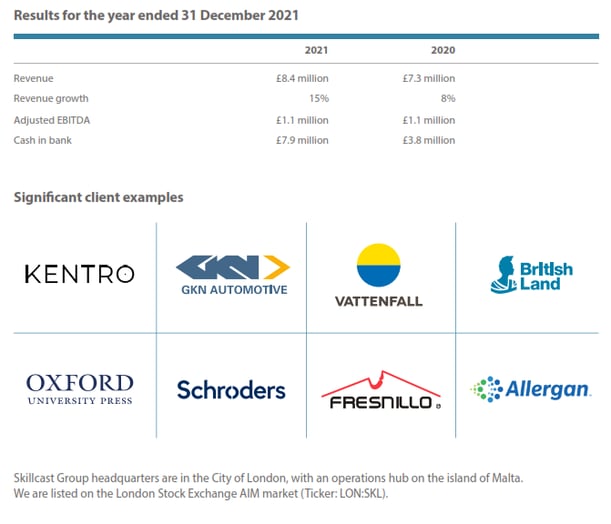 Investing in customer success
Last year, we launched a new Customer Support Hub. It is home to all of the the information our customers and their learners need for compliance training success.
This fully searchable online resource provides text and video guides for administrators and their learners, explaining everything from logging in to creating their own training content.
This dedication is what drives our recognition on review sites. Feefo, the UK's leading customer rating platform, has recognised our excellent service. Once again, in 2021, we received the Feefo Platinum Trusted Service Award for achieving consistent Feefo ratings of 4.5/5.0 over the last three years. Our ranking is equally high across Google, Gartner and Elearningindustry.com user reviews.
Protecting the environment & society as a whole
As a business that, through our products and services, promotes good compliance, Skillcast is committed to strong and pragmatic corporate governance practices within its own operations, including in relation to ESG.
Our new Board monitors ESG, diversity and culture, and the Group has implemented an ESG policy whereby the Board will use reasonable endeavours to ensure the Group:
Complies with relevant regulations governing the protection of human rights, occupational health and safety, the environment and the labour and business practices of the jurisdictions in which the Group conducts business.
Adheres to the highest standards of conduct intended to avoid even the appearance of negligent, unfair or corrupt business practices.
Instructs employees in the identification and management of ESG risks and opportunities.
What we give back to the compliance community
We have created a series of comprehensive roadmaps to help you plan and execute compliance in your organisation.
Our best-selling Compliance Essentials Library and award-winning LMS provide a one-stop compliance training solution, including compliance refresher courses.
And our searchable compliance glossaries explain key terms and regularly report on learnings from the largest compliance fines resulting from regulatory breaches.
We also have 80+ free compliance training aids, including assessments, best practice guides, checklists, desk aids, eBooks, games, posters, training presentations and even e-learning modules!
If you'd like to stay up to date with compliance learning best practices, industry insights and key trends across regulatory compliance, digital learning, EdTech and RegTech news, subscribe to the Skillcast Compliance Bulletin.
Last but not least, you can interact in person with thought leaders and your peers at one of our popular live webinars and face-to-face events.
If you've any questions or concerns about compliance or e-learning, please get in touch. We're happy to help!