Crackdown on Bitcoin to prevent money laundering & tax evasion
HM Treasury in the UK and EU institutions seem be waking from their slumber and have announced a crackdown on crypto-currencies, such as Bitcoin to prevent financial crime.
The vertiginous rise of Bitcoin is only partly explained by bubble/mania theories. As the FT puts it: "While there are no legitimate, non-speculative reasons to buy bitcoin, there are of course significant illegitimate ones... [it] is a useful tool for tax evaders, money launderers, and anyone who wishes to avoid .. regulations."

Virtual currencies are being used to facilitate financial crimes, including money laundering, tax evasion, fraud and terrorist financing.
Under EU-wide proposals to be introduced early next year, traders in the currency will be forced to disclose their identity, and online platforms will need to carry out due diligence checks on customers and report suspicious activity.
The measures bring crypto-currencies and exchange platforms into the existing AML/CTF regulation, with activities overseen by national competent authorities, which in the UK will be the Treasury.
This following the FATF research, which found that while crypto-currencies may offer some benefits (such as lower transaction costs, payment efficiency, and bringing banking services to populations with limited access), there are also significant risks due to their characteristics.
Risks associated with crypto-currencies
Anonymity - transfers between buyers and sellers can be completely anonymous (as with eCache) and such traceless payments facilitate money laundering and crime
Lack of identification and verification (ID and V) checks - with no names, account numbers, checks on the source or destination of funds, or historical records of transactions, there is real potential for abuse
Oversight and controls - exactly who is responsible for AML/CTF compliance, supervision and monitoring of transactions?
Law enforcement - how might law enforcement work when there are decentralised virtual currencies operating across different jurisdictions with no central administrator in charge? What can we do if centralised virtual currency systems deliberately choose territories with weak AML/CTF regimes?
Experts see value in the blockchain technology behind crypto-currencies, like bitcoin, in transaction settlements. But the crypto-currencies themselves are seen with suspicion. While banks like JP Morgan and Goldman Sachs are investing heavily in blockchain, they have publicly called Bitcoin as a vehicle for fraud and money laundering. Even Nobel prize winners have demanded that Bitcoins be regulated or banned. The FT puts it brilliantly : "Innovative technology is not a licence to break the law."
Want to know more about Financial Crime?
As well as 50+ free compliance training aids, we regularly publish informative Financial Crime blogs. And, if you're looking for a risk management training solution, why not visit our Risk Management course library.
If you've any further questions or concerns about Financial Crime, just leave us a comment below this blog. We are happy to help!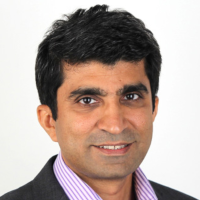 Vivek Dodd MS, CFA is a Director of Skillcast. He has helped hundreds of companies to meet their mandatory compliance training requirement using e-learning courses and tools. His special interest is instructional design and the use of asynchronous learner interactions to effect behavioural change. He is a speaker on compliance training conferences, writes articles on compliance training and e-learning in various journals.
By clicking subscribe you consent to receiving our monthly newsletter. For more information read our privacy policy.