In its Business Plan, the FCA states that it aims to be a data-led regulator and achieve its outcomes by taking a data-led approach.
In our breakfast briefing and webinar, we were joined by ex-FCA regulator Katharine Leaman to examine this changing regulatory landscape and how to navigate it.
The FCA's ambitions for data include reducing the data collection burden on firms, transforming the data collection process and increasing the use of data analytics. Focusing on the data itself is a direction the regulator is moving in - the speed at which data can be sent, as well as the quality of the data, is of growing importance.
Main discussion points
Data-led regulation is one of five topics from the FCA business plan that we are focusing on. To frame the discussion, we outlined some key points:
Understanding data-led regulations
The importance of staying informed and up-to-date with the constantly evolving landscape of data-led regulations. In line with this, there is a need to comprehend the implications and requirements for regulated businesses.
Compliance tools
The significance of utilising compliance tools to manage and meet regulatory requests proactively. Identifying and implementing the right tools and technologies to facilitate compliance.
Transformation of regulatory perspective and client relationships
Leveraging data as a means to transform the way regulatory compliance is perceived within an organisation. The shift towards using data-driven insights to enhance client relationships, possibly by providing more transparent and secure services.
Strategic adaptation
The importance of strategic adaptation in response to data-led regulations.
Consideration around strategies for supplier selection that align with compliance requirements and data security. The need to optimise legacy systems to ensure they are compliant with modern data regulations.

These discussion points provide a framework for addressing the challenges and opportunities related to data-led regulations in the evolving business landscape.

Key takeaways
1. Challenges & Risks
Balancing costs of technology and remaining competitive. Not getting left behind is a crucial consideration for mid-market and smaller firms.
Consider scalability, ROI, strategic alignment, budget, regulatory compliance, competitors, as well as training and in-house skills.
Regulatory drivers and rationale are pushing organisations towards data-led compliance.
"Outcomes" based regulation is gaining importance
Increasing regulatory requests demand larger data submissions in advance.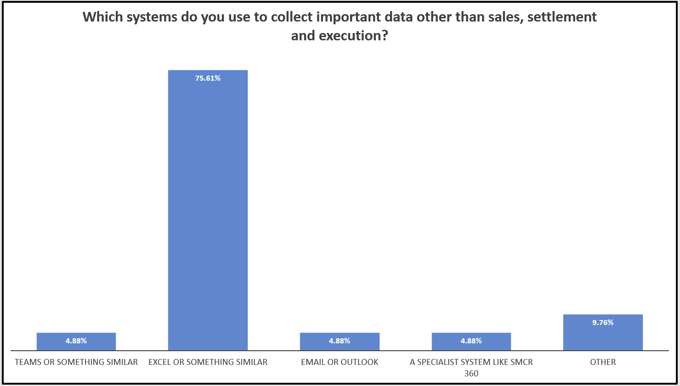 When we asked our webinar audience which systems they use to collect data, it was unsurprised that the majority lean on Excel or something similar. Improving and automating this process is a consideration moving forward. Anticipating and developing user-friendly tools like dashboards and reports can ease compliance efforts.
2. Advantages of being more data-driven
Embrace the mindset that "those with the best data win" across compliance and business functions - this refers to not only the speed with which the data can be collected and sent but the quality of that data
The combination of technology and learning strategically - organisations can leverage this to meet client demands.
Clarity of ownership - systems and underlying data. This is not one thing - systems, data and the use of data are all a part of being data-driven. There is the opportunity to define clear responsibilities and get organisational clarity regarding the ownership of IT Systems, data, and their usage.
Insights into client journeys - this carries increasing usefulness, especially with the introduction of consumer duty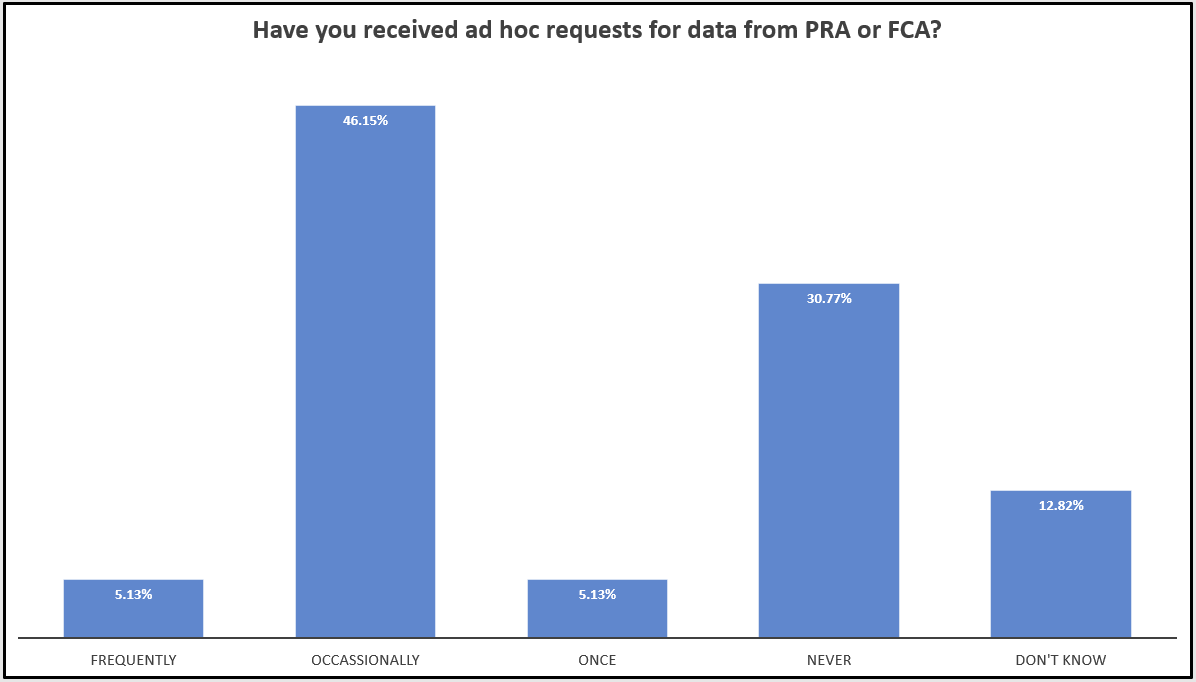 Our webinar poll indicated that nearly half of the audience had received occasional ad-hoc requests for data from the regulator. Moving forward, we suspect that those in the 'once' or 'never' categories will find themselves in the occasional category too. This is provided that they are not large corporations which tend to get ad hoc data requests frequently.
3. Impacts and Considerations
Allocate time to define goals when choosing service providers for data-centric compliance.
Address legacy systems and explore "good, better, best" approaches.
Analyse the nuances of data-led compliance for both startups and established businesses operating under a single set of rules.
Balancing privacy with vulnerabilities
Data asset inventory - this is crucial for effective data management, governance, security, and compliance.
What's next?
Continue the conversation by joining us on the 2 November for a Lunch and Learn session on the FCA's focus on Financial Crime & Fraud. Alternatively, register for our webinar on 8 November. We will be joined by Raj Rajani, who has a wealth of experience working on highly complex criminal cases with the FCA and SFO.
Looking for more compliance insights?
SkillcastConnect is our new community bringing together compliance professionals for unique peer group networking free of vendors.
As members of our unique and complimentary community, you can join our live webinars and face-to-face events to interact in person with thought leaders and your peers and access hundreds of digital resources on a variety of compliance, learning, and regulatory topics to support you and your teams along your journey. Join the discussion!