Is Bitcoin bad? Risk and virtual currencies
The Treasury and EU plan to regulate crypto-currencies, such as Bitcoin, from early next year amid growing concerns that they are being used for money laundering, terrorist financing, tax evasion and other financial crime.
With no central bank, no inflation, and no trace-ability (as traders have until now enjoyed anonymity), virtual currencies have a number of backers, with Bitcoin reaching record highs over the last few weeks.
Amendments to the anti-money laundering directive are being negotiated to ensure greater transparency and control. Under the plans, traders' identities must be disclosed, and online platforms need to conduct due diligence on customers and report suspicious activity.
Is this an overreaction or a long overdue measure? Was Jamie Dimon right all along?
Potential risks of virtual currencies
Based on FATF research, here's a reminder of the potential risks of virtual currencies:
Anonymity - anonymous transfers between buyers and sellers enable transactions to take place below the radar. There are no names, no account numbers and no verification checks, with the source of funding never identified.
Lack of oversight - suspicious trading activity goes undetected as there are no AML systems. Law enforcement is complex as there is no central administrator and asset seizures are difficult.
Global transfers - with a global reach to any jurisdiction (all you need is a mobile phone), the AML/CTF risks are increased. Supervision and enforcement can be more challenging, though not impossible (for example, Silk Road, AlphaBay, Liberty Reserve and Western Express International). What if centralised virtual currency systems deliberately seek out territories with weak AML/CTF regimes?
Volatility - the currency's extreme volatility also makes it attractive to high-risk traders. What control measures are currently in place in your organisation?
Want to know more about Financial Crime?
As well as 30+ free compliance training aids, we regularly publish informative Financial Crime blogs. And, if you're looking for a risk management training solution, why not visit our Risk Management course library.
If you've any further questions or concerns about Financial Crime, just leave us a comment below this blog. We are happy to help!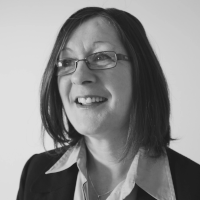 Lynne is an instructional designer with over 20 years' storyboarding experience. Her current areas of interest are mobile learning and exploring how cognitive theories of learning can create better learner experiences.
By clicking subscribe you consent to receiving our monthly newsletter. For more information read our privacy policy.