How many British employees are now working from home?
The Skillcast WFH Insights Survey May 2020 conducted by YouGov found that 49% of employees in Great Britain are currently working from home all or most of the time, with London standing out from all other regions.
In the largest survey of its kind, we asked 4,002 employees about their current work situation.
Nearly 4 out of 10 surveyed (39%) said they are currently working from home as a result of the Coronavirus (COVID-19) pandemic, and a further 10% reported working from home both before and during the outbreak.
However, we found large variations by region, company size, industry sector and age groups.
Survey findings: Employees who are homeworking
Geography: 71% of Londoners are working from home, a significantly greater proportion than in other regions (35% to 49%).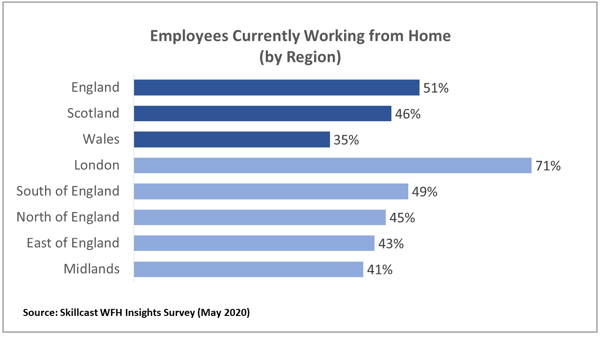 Company size: 62% of those employed in large organisations (annual turnover > £10 million) are working from home compared to 38% of those employed in small organisations (annual turnover < £1 million).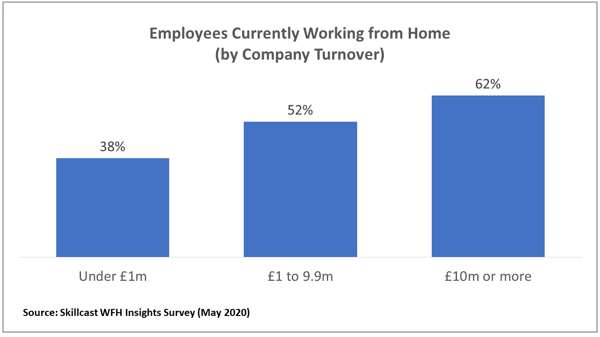 Industry: Finance & Accounting (85%) and IT & Telecoms (81%) companies appear to have the most of their employees to work from home, with Media and Legal also showing significant percentages.
Age: 63% of millennials (aged under 35 years) are able to work from home compared to just 33% of those over 55 years.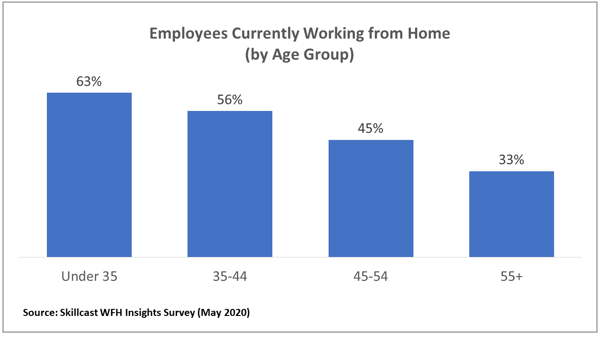 Gender: No significant difference between men (49%) and women (50%) working from home
Survey findings: Employees who are furloughed
Volume: A further 30% of employees surveyed said they are on furlough and currently not working due to the Coronavirus (COVID-19) pandemic.
Industry: Hospitality and Leisure (74%) sector have put more of their employees on furlough than Construction (44%), Retail (41%), Manufacturing (36%) and Transportation & Distribution (31%).
Company size: Over 4 out of 10 of those working at SMEs (<50 employees) said they have been furloughed (42%), compared to just 20% of those working for large organisations (250+ employees).
Age: Over 55's are the most likely age group to have been furloughed with 38% saying they are not currently working. This compares to around a quarter (26%) of under 45's.
Survey findings: Employees still attending employer premises
17% of British employees are currently still working at their employer's premises during the Coronavirus (COVID-19) pandemic.
Industry: The industries with the highest levels of employees currently working at their employer's premises include Transportation & Distribution (40%), Medical & Health Services (38%) and Retail (36%). The lowest levels are seen within IT & telecoms (4%) and Media/Marketing/Advertising/PR/Sales (4%).
Need more help with working from home compliance?
Working from home presents specific challenges to maintaining regulatory compliance. This is why your senior managers and compliance officers will need a resilient, scalable plan.
Our 3-step compliance training and assessment roadmap will help put your homeworking environment on a much stronger footing.
It includes a 10-minute training module for all staff, a 15-minute training module for managers and a self-assessment.
You can access all of these training aids for free, and they are available for roll-out as part of our Compliance Essentials Course Library.
Looking for more compliance insights?
If you'd like to stay up to date with best practices, industry insights and key trends across regulatory compliance, digital learning, EdTech, and RegTech news, subscribe to Skillcast Compliance Bulletin.
To help you navigate the compliance landscape, we have collated searchable glossaries of key terms and definitions across complex topics, including GDPR, Equality, Financial Crime and SMCR. We also track the biggest compliance fines, explaining what drives them and how to avoid them.
You can follow our ongoing YouGov research into compliance issues, attitudes and risk perceptions in the UK workplace through our Compliance Insights blogs.
Last but not least, we have 60+ free compliance training aids, including assessments, best practice guides, checklists, desk-aids, eBooks, games, handouts, posters, training presentations and even e-learning modules!
If you've any questions or concerns about compliance or e-learning, please get in touch.
We are happy to help!