79% of Employees are New to Working from Home
The 79% of British employees working from home during the Covid-19 crisis may lack experience of this working style according to the Skillcast WFH Insights Survey conducted by YouGov.
How many British employees are now working from home?
The Skillcast WFH Insights Survey May 2020 conducted by YouGov found that 49% of employees in Great Britain are currently working from home all or most of the time, with London standing out from all other regions.
In the largest survey of its kind, we asked 4,002 employees about their current work situation.
Nearly 4 out of 10 surveyed (39%) said they are currently working from home as a result of the Coronavirus (COVID-19) pandemic, and a further 10% reported working from home both before and during the outbreak.
However, we found large variations by region, company size, industry sector and age groups.
Survey findings: Employees who are homeworking
Geography: 71% of Londoners are working from home, a significantly greater proportion than in other regions (35% to 49%).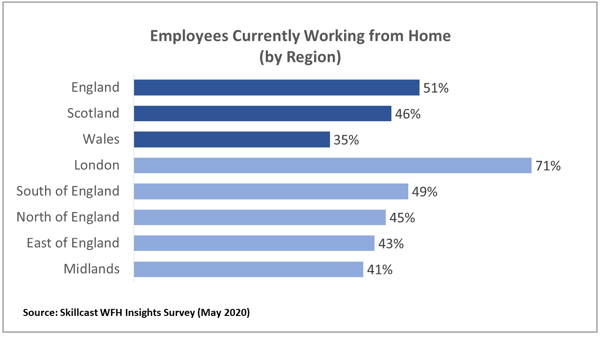 Company size: 62% of those employed in large organisations (annual turnover > £10 million) are working from home compared to 38% of those employed in small organisations (annual turnover < £1 million).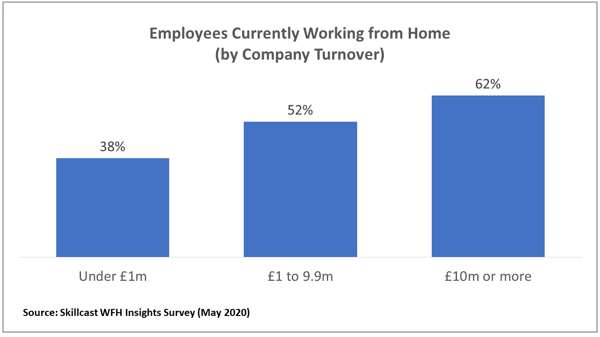 Industry: Finance & Accounting (85%) and IT & Telecoms (81%) companies appear to have the most of their employees to work from home, with Media and Legal also showing significant percentages.
Age: 63% of millennials (aged under 35 years) are able to work from home compared to just 33% of those over 55 years.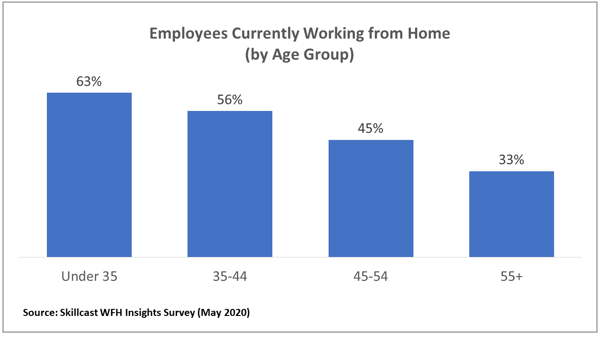 Gender: No significant difference between men (49%) and women (50%) working from home
Survey findings: Employees who are furloughed
Volume: A further 30% of employees surveyed said they are on furlough and currently not working due to the Coronavirus (COVID-19) pandemic.
Industry: Hospitality and Leisure (74%) sector have put more of their employees on furlough than Construction (44%), Retail (41%), Manufacturing (36%) and Transportation & Distribution (31%).
Company size: Over 4 out of 10 of those working at SMEs (<50 employees) said they have been furloughed (42%), compared to just 20% of those working for large organisations (250+ employees).
Age: Over 55's are the most likely age group to have been furloughed with 38% saying they are not currently working. This compares to around a quarter (26%) of under 45's.
Survey findings: Employees still attending employer premises
17% of British employees are currently still working at their employer's premises during the Coronavirus (COVID-19) pandemic.
Industry: The industries with the highest levels of employees currently working at their employer's premises include Transportation & Distribution (40%), Medical & Health Services (38%) and Retail (36%). The lowest levels are seen within IT & telecoms (4%) and Media/Marketing/Advertising/PR/Sales (4%).
About the Skillcast WFH Insights Survey
Skillcast is the leading provider of compliance e-learning and staff compliance tools to companies in the UK, ranging from FTSE 100 giants to small and mid-sized businesses.
In May 2020, Skillcast commissioned YouGov to undertake the largest study of its kind in Great Britain, based on responses from 1,983 participants qualified as working from home all or most of the time.
This is just a taster of the full survey results. For further insights by the size of firm, the industry sector, region and demographics, email us at insights@skillcast.com.
To see more primary research results from our surveys, visit our Insights page.
Need help with working from home compliance?
Working from home presents specific challenges to maintaining regulatory compliance. Which is why your senior managers and compliance officers will need a resilient, scalable plan.
Our 3-step compliance training and assessment roadmap will help to put your homeworking environment on a much stronger footing. It includes 10-minute training module for all staff, a 15-minute training module for managers and a self assessment too.
You can access all of these training aids for free, and they are available for roll-out as part of our Compliance Essentials course library.
If you've any further questions or concerns, just leave us a comment below this blog. We are happy to help!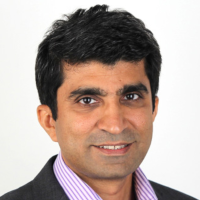 Vivek Dodd MS, CFA is a Director of Skillcast. He has helped hundreds of companies to meet their mandatory compliance training requirement using e-learning courses and tools. His special interest is instructional design and the use of asynchronous learner interactions to effect behavioural change. He is a speaker on compliance training conferences, writes articles on compliance training and e-learning in various journals.
By clicking subscribe you consent to receiving our monthly newsletter. For more information read our privacy policy.