UK Corporate Compliance Survey
Why did Skillcast conduct a survey?
Skillcast is the leading provider of corporate compliance e-learning and tools to companies in the UK, ranging from FTSE100 giants to small and mid-sized businesses. Given our passion for staff compliance, we commissioned two surveys to assess compliance issues, attitudes and perceptions in the UK corporate workplace.
Who carried out the fieldwork?
The surveys were conducted by the international polling agency, YouGov in early May 2019. They covered a broad sample of small (under 50 employees), medium (50 to 249 employees) and large (over 250 employees) companies across business sectors, locations in the UK, and demographics.

The fieldwork for the employee survey was conducted over 3rd - 9th May 2019 and for the business decision makers over 29th April - 13th May 2019. The results are based on validated responses by over 2,000 employees, and by over 2,000 managers. This makes it one of the largest survey of staff compliance in the UK.
YouGov panel methodology
YouGov conducts its public opinion surveys online using something called Active Sampling for the overwhelming majority of its commercial work, including all nationally and regionally representative research. The emphasis is always on the quality of the sample, rather than the quantity of respondents.

When using Active Sampling, restrictions are put in place to ensure that only the people contacted are allowed to participate. This means that all the respondents who complete YouGov surveys will have been selected by YouGov, from our panel of registered users, and only those who are selected from this panel are allowed to take part in the survey.

Find out more on the YouGov panel methodology page.
What are the key results?
We will be publishing our findings from the survey in the form of a series of dedicated Compliance Insights blogs over the coming months.
1. How compliant is your organisation?
Research conducted by YouGov and Skillcast, has found that the level of confidence among employees and managers that they and their organisations are complying with the new rules on data protection could be misplaced. Download the free eBook.
2. The risk perception and employee misconduct gap
Our survey has highlighted the gap between misconduct observed by UK employees and the risk perception of managers, and it gets larger with firm size. Read the results in our blog.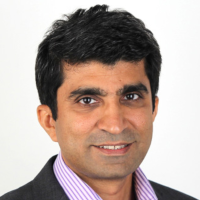 Vivek Dodd MS, CFA is a Director of Skillcast. He has helped hundreds of companies to meet their mandatory compliance training requirement using e-learning courses and tools. His special interest is instructional design and the use of asynchronous learner interactions to effect behavioural change. He is a speaker on compliance training conferences, writes articles on compliance training and e-learning in various journals.
By clicking subscribe you consent to receiving our monthly newsletter. For more information read our privacy policy.