Our third Christmas Compliance Challenge had a fantastic response, with hundreds of compliance and learning professionals competing. It takes you through a journey at Santa & Co's operations. But it's not just festive fun. It contains some very serious regulatory compliance lessons for businesses.
We asked participants thousands of questions. They answered 81% correctly (almost the same as 2020), and 16% achieved a perfect score so far. Despite this, some worrying trends persist.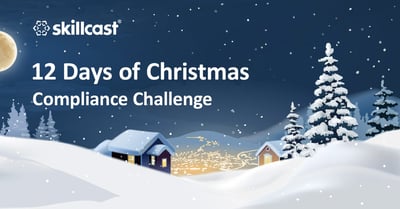 The vast majority of those getting questions wrong (17% of the total) were confident in their incorrect answers. So, not only were they wrong - they were convinced they were right!
Some areas highlighted have greater risks at this time of year, making these of particular concern. Once again, players struggled to answer correctly regarding discrimination, social media, fraud, and health and safety. Worse still, these were also the areas where people were confidently incorrect. That's some big training red flags!
But it's not all doom and gloom. Some areas were near perfect, including competition law, modern slavery and information security. So these games also show when you are getting it right!
We built this festively themed game using the same learning technology that we use to gamify training for our customers. It uses the same SCORM we use to create games to drive staff engagement and generate valuable learning insights.
Christmas Compliance Challenge 2021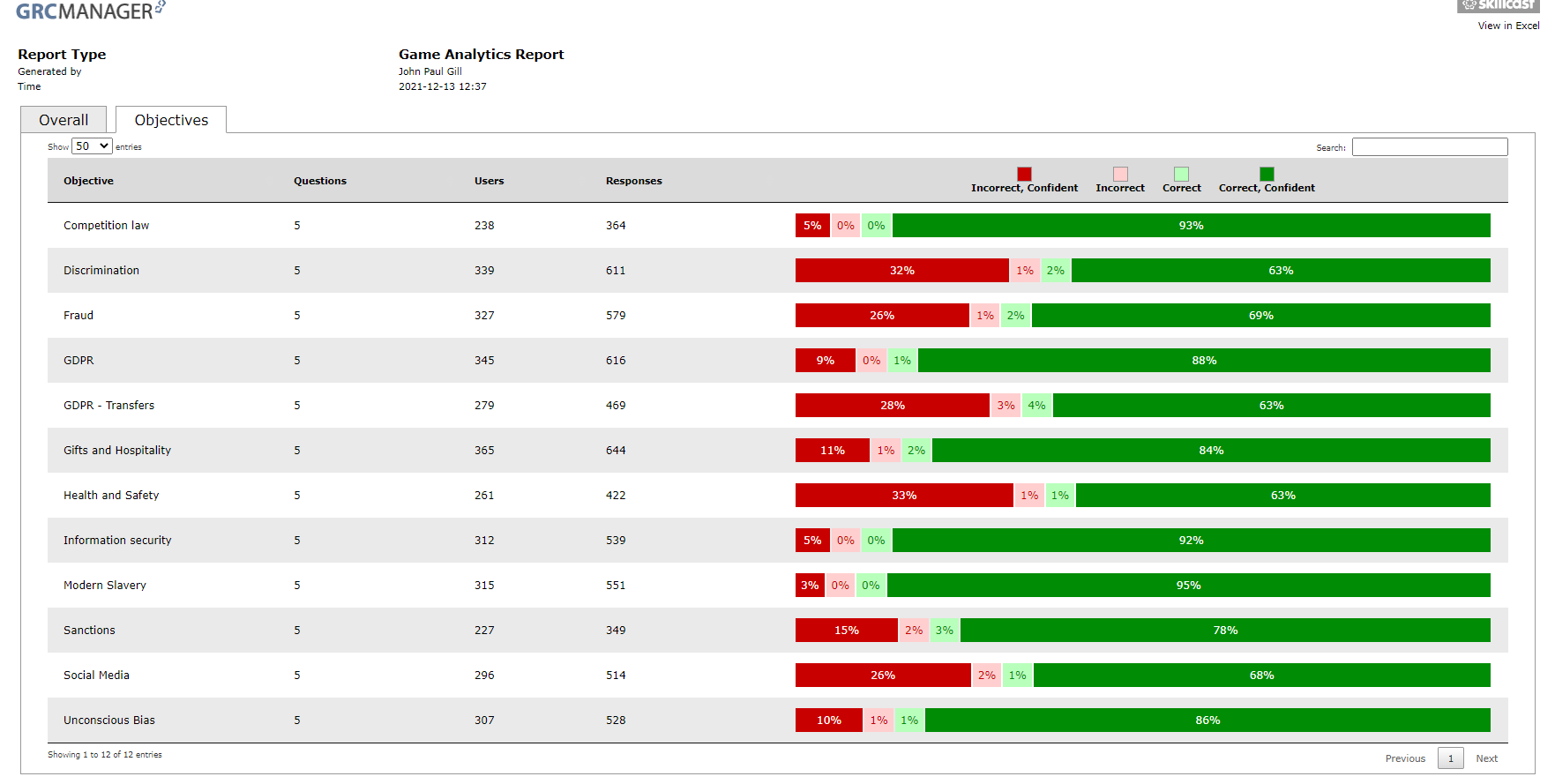 Dark green - answered confidently and correctly
Light green - correct answers but not confident
Dark red - answered confidently but incorrectly
Light red - answered incorrectly and not confident
Christmas Compliance Challenge 2020
The game results from last year highlight that the same areas crop up each year.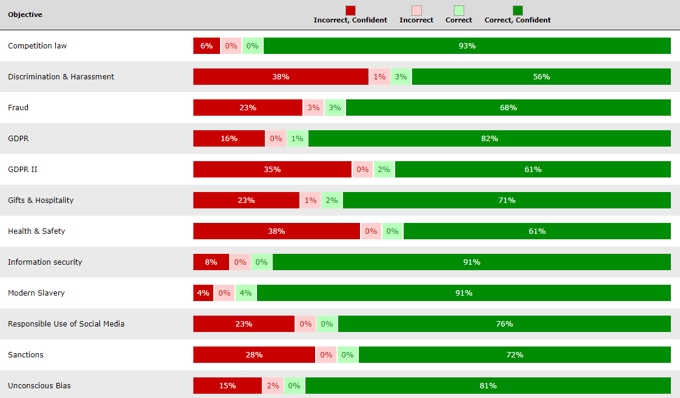 Note: Skillcast is committed to confidentiality and personal data privacy. Hence, we only report on aggregated results that are not regarded as personal data under the GDPR.
What is gamified learning?
Gamified learning has helped many of our customers identify strengths and weaknesses and a clear focus for future initiatives. If you'd like to learn more, we have a series of gamification blogs, case studies explaining how we helped Barclays, Société Générale and Royal Mail or and a gaming hub where you can try out one of our themed games.
Skillcast games present your employees with challenging propositions in a realistic context. Learners accept or reject each proposition with a click or swipe, losing lives for each incorrect answer and completing the game within a time limit. They are a fun and engaging learning tool with a serious purpose.
How gamified learning improves learning outcomes
Driving behavioural change
Catch your employees' attention with a gamified approach to create awareness of key risks and build a culture of compliance in your organisation.
Boosting knowledge retention
Help your employees remember what they've learned in their training by applying their knowledge in a competitive setting.
Improving employee assessments
Separate assessments from training conducted days, weeks or months earlier to understand the long-term impact of the training.
Highlighting competency gaps
Use in-depth diagnostics to assess compliance risks by department, manager or area, and then close the gaps with specifically targeted content.
Isn't it time you added gamified learning to your compliance learning toolkit?
Want to learn more about compliance?
Our comprehensive compliance roadmaps help you navigate compliance. We also have searchable compliance glossaries for those new to the topic, and we regularly report on key compliance fines.
If you'd like to stay up to date with compliance best practices, industry insights and key trends across regulatory compliance, digital learning, EdTech and RegTech news, subscribe to the Skillcast Compliance Bulletin.
You can follow our ongoing YouGov research into compliance issues, attitudes and risk perceptions in the UK workplace through our Compliance Insights blogs.
For a one-stop compliance training solution, try our best-selling Compliance Essentials Course Library and award-winning LMS.
Last but not least, we have 80+ free compliance training aids, including best practice guides, checklists, desk-aids, eBooks, games, handouts, posters, training presentations, webinars and even e-learning modules!
If you've any questions or concerns about compliance or e-learning, please get in touch.
We are happy to help!