Our Christmas Challenge showed how serious topics can be made into engaging and effective gamified e-learning. Yet, even festive fun can yield serious and interesting learning results.
We had a fantastic response to our festive compliance challenge with over 1,000 players competing and over 10% of those achieving the top score. And of the tens of thousands of questions answered, just over 81% have been answered correctly.
The compliance challenge takes you through a journey at Santa Claus & Co's operations. It is a fun and frivolous parable that contains some very serious regulatory compliance lessons for all businesses.
And beneath the headline, there are some very interesting trends. For instance, although 81% of the compliance questions were answered correctly, of the rest the vast majority (nearly 18%) were answered confidently incorrectly. Which means that these respondents who said that they were sure of their responses, were incorrect!
Another interesting trend we've found is that Discrimination & Harassment, Health & Safety, and Responsible Use of Social Media are the top areas where the respondents struggled to make the correct choices, and they're also the top areas where people were confidently incorrect.
It was a festively themed version of the same game that we already deploy for our clients to gamify training, engage their staff and generate valuable learning insights.

The bar graph below shows a snapshot of the results:
Dark green - answered confidently and correctly
Light green - correct answers but not confident
Dark red - answered confidently but incorrectly
Light red - answered incorrectly and not confident

Since the game is still ongoing, we can't show more (the topic areas). Watch this space after Christmas and in the new year for more findings that we garner from this serious game.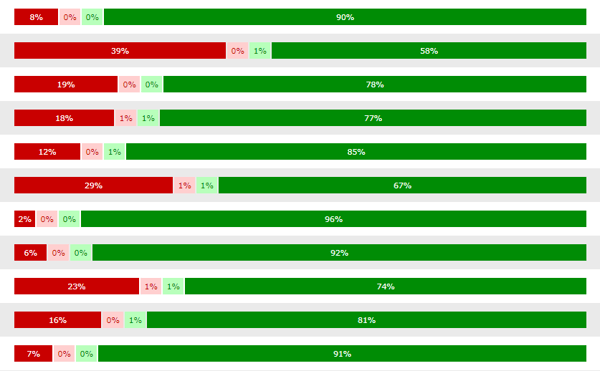 Note: we are committed to confidentiality and privacy of personal data of the players. We will not reveal individual data here, only the aggregated results that are not regarded as personal data under the GDPR.
What is gamified learning?
Gamified learning has helped many of our customers to identify strengths and weaknesses as well as clear focus for future initiatives. If you'd like to learn more, we have a series of gamification blogs, case studies explaining how we helped Barclays, Société Générale and Royal Mail or and a gaming hub where you can try out one of our themed games.
Skillcast games present your employees with challenging propositions in a realistic context. Learners accept or reject each proposition with a click or swipe, losing lives for each incorrect answer and completing the game within a time limit.

The are a fun and engaging learning tool with a serious purpose
How games improve learning outcomes
Driving behavioural change
Boosting knowledge retention
Improving employee assessments
Highlighting competency gaps
Isn't it time you added gamified learning to your compliance learning toolkit?