6 tips for dealing with social media at work
It comes as no surprise that the popularity of social media is growing, with an estimated 35.7 million people using it in the UK alone.
Social media is used for many different reasons - from making professional connections, to solving work problems, connecting with family and friends, or simply to pass time as you take a break.
Let's have a look at some recent statistics:
Facebook has an estimated 32 million user accounts in the UK
There are 21 million LinkedIn users in the UK
14 million people in the UK have active Instagram accounts
Twitter has over 15 million active users in the UK
According to a social media study carried out by Pew Research Center, 77% of employees use social media at work. However, there can be downsides to using it at work, and if you break the rules, you may find yourself in hot water. With the introduction of GDPR, it has become even more important to make staff aware of how to protect their personal data on social media.
Top tips to stay compliant when using social media at work:
Read your company's social media policy - Make sure you know what your company's attitude is to social media - for example, is some personal use allowed during lunch or break times or is there a complete ban?
Know what is expected of you - Be clear about what behaviour is and isn't allowed - for example, updating your Facebook status may be acceptable during lunch or break times, but make sure you don't say or comment on something that may be considered detrimental to your firm, or reveal commercial secrets, or share offensive images or emails.
Avoid airing grievances - It may be safer to stay clear of social media altogether if you've had a bad day at work; always avoid airing personal grievances about your boss/colleagues/customers online as this may lead to disciplinary action.
Don't use your work email for personal use - Most companies will prohibit you from using your work email to post comments on chat forums, sign up for social media or shopping sites, or buy goods online, unless it is for work purposes.
Don't claim to represent your firm online or make comments on their behalf - Unless it's your job to do so!
Think before you post - Remember that social media sites are considered 'public' by law and once you've posted something online, it is impossible to remove it again. So, don't post anything that may compromise your personal safety or breach confidentiality.
Want to know more about Compliance?
As well as 50+ free compliance training aids, we regularly publish informative Compliance blogs. And, if you're looking for a compliance training solution, why not visit our Compliance Essentials course library.
If you've any further questions or concerns, just leave us a comment below this blog. We are happy to help!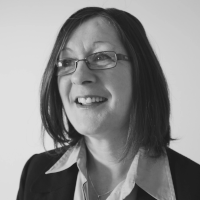 Lynne is an instructional designer with over 20 years' storyboarding experience. Her current areas of interest are mobile learning and exploring how cognitive theories of learning can create better learner experiences.
By clicking subscribe you consent to receiving our monthly newsletter. For more information read our privacy policy.