Build, deepen & embed for training success
Our simple 3-step model provides a great foundation for your SMCR and Conduct Rules training strategy. By building, deepening and embedding your training, you'll get better results.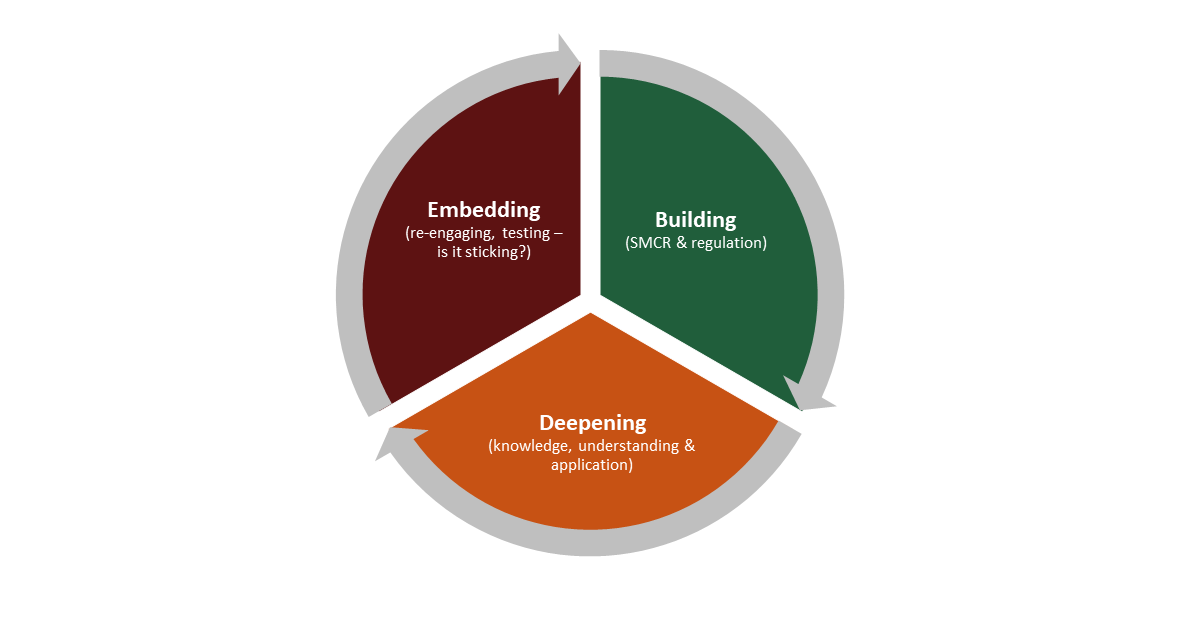 Step 1 - Building SMCR training
Keeping your initial SMCR messages clear, consistent and simple is key as you start to engage with staff. The tone you set from the outset will ensure that staff understand that SMCR compliance everyone's behaviour and conduct, not just those who sit in the most senior, or more accountable, roles.
We think a short video entitled 'Are you aware of SMCR?' will help you engage with your staff at the outset. For Senior Managers, this can be supplemented with an 'Overview of SMCR'. Since they will typically have one-to-one or small group briefings this module can be flexibly used in 'test out mode' to enable individuals to take an assessment post briefing.
Step 2 - Deepening SMCR training
What steps are you taking to ensure that your training is relevant and understood?
Your training needs to bring to life:
What the Conduct Rules mean to different jobs and functions
Case studies that are relevant to your firm
What being accountable really means
What comprises being Fit & Proper for those in Certified or Senior Manager roles?
Duty of Responsibility for Senior Managers and the steps they can personally take to meet their obligations
The Conduct Rules and role of a Non-Executive Director under the SMCR
Skillcast provides Conduct Rules training to support all populations – Senior Managers, Certified Persons, Conduct Rules and Non-Executive Directors. More importantly, we have developed learning to meet the needs of specific roles such as Corporate Finance and Global Markets.
Should you choose to tailor the training further we are happy to help. We have deep expertise in helping firms achieve their regulatory learning requirements.
Step 3 - Embedding SMCR training
Don't assume that because an individual has demonstrated that they can apply the rules that they are doing so in practice!
You will need to re-engage your staff with ongoing training and communications. We don't mean re-issuing the e-learning periodically, we mean ensuring that what people do in their day to day lives meets the requirements of the SMCR.
Although you may already be doing this, it's good practice to review your training and identify any gaps to ensure your training is comprehensive and up to date.
Regularly review your SMCR training:
Testing - Your performance management/appraisal mechanism should test competence and capability – are areas of weakness fed into training plans?
Learn & adapt - The regulator is keen for firms to learn from mistakes and issues. Are systemic weaknesses from Conduct Rule breaches, or near misses, built into future training?
Market events – bring to life things that have happened in your own industry including case studies to help staff understand issues better.
At Skillcast, we offer an extensive list of SMCR training modules to help you to address whatever your gap might be. Our training modules can simply be tailored to your business needs very easily.
We can build Learning Paths for populations and also offer support in evaluating the embeddedness of your training plan against a simple maturity model.
SMCR training roadmap
SMCR compliance training is a complex journey. That's why to ensure that your learners reach their destination, you will need a reliable roadmap.
Those in senior leadership positions or responsible for organising training, need to ask two important questions about their SMCR compliance planning:
Does it support your culture, values, objectives and drive compliant behaviour?
Does it ensure individuals understand and can apply the rules in their role?
If you cannot currently say yes to both questions, we hope that using this training model and our SMCR training roadmap can help ensure you do in the future.
Want to learn more about SMCR?
We offer comprehensive SMCR Training including a fully integrated SMCR 360 Compliance Toolkit to streamline, unify and automate your processes.
If you'd like to stay up to date with SMCR best practices, industry insights and key trends across regulatory compliance, digital learning, EdTech and RegTech news, subscribe to the Skillcast Compliance Bulletin.
To help you navigate the compliance landscape we have collated searchable glossaries of key terms and definitions across complex topics including GDPR, Equality, Financial Crime and SMCR. We also regularly report key learnings from recent compliance fines.
You can follow our ongoing YouGov research into compliance issues, attitudes and risk perceptions in the UK workplace through our Compliance Insights blogs.
And if you're looking for a compliance training solution, why not visit our Compliance Essentials Course Library.
Last but not least, we have 60+ free compliance training aids, including assessments, best practice guides, checklists, desk-aids, eBooks, games, handouts, posters, training presentations and even e-learning modules!
If you've any questions or concerns about compliance or e-learning, please get in touch.
We are happy to help!