The HSE recommends taking a 5-10 minute break every hour. However, the Skillcast WFH Insights Survey May 2020 conducted by YouGov found that many British employees are failing to take these required breaks. Even those who have been working from home prior to the Covid-19 outbreak. This could store up problems for them and their employers.
"Every employer shall so plan the activities of users at work in his undertaking that their daily work on display screen equipment is periodically interrupted by such breaks or changes of activity as reducing their workload at that equipment."
We presented 1,983 employees, confirmed as working from home all or most of the time, with a selection of patterns of taking breaks and asked them to select the one that would be typical of their working day at home during the Coronavirus outbreak.
Nearly a third (32%) reported not taking sufficient breaks, with significant numbers saying that they generally take no breaks (8%), just the lunch breaks (13%) or breaks only when the work permits (10%).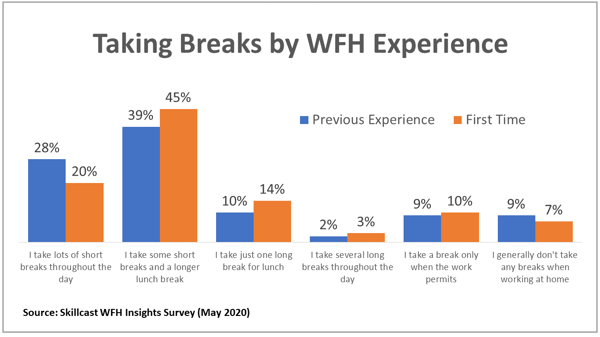 Only 20% of those newly working from home post-Covid are taking lots of short breaks each day, and 45% are taking a lunch break plus some short breaks. A further 3% are taking several longer breaks throughout the day, bringing the total of those taking enough breaks to 68%.
Those working from home pre-Covid fared no better with their total being 69%.
Proportions were similar across all firm sizes, regions, gender, age and region.
Retail sector employees working from home seem to be particularly at risk with just 57% taking enough breaks. This may simply parallel their normal working patterns – 17% say that they take a break only when the work permits, and 12% generally don't take a break at all!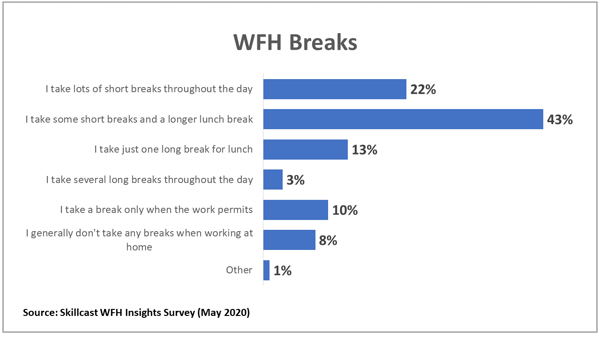 About the Skillcast WFH Insights Survey
Skillcast is the leading provider of compliance e-learning and staff compliance tools to companies in the UK, ranging from FTSE 100 giants to small and mid-sized businesses.
In May 2020, Skillcast commissioned YouGov to undertake the largest study of its kind in Great Britain, based on responses from 1,983 participants qualified as working from home all or most of the time. Fieldwork took place online between 23rd April and 4th May 2020.
This is just a taster of the full survey results. For further insights by the size of firm, the industry sector, region and demographics, email us at insights@skillcast.com.
To see more primary research results from our surveys, read our Insights blogs.
Need more help with working from home compliance?
Working from home presents specific challenges to maintaining regulatory compliance. This is why your senior managers and compliance officers will need a resilient, scalable plan.
Our 3-step compliance training and assessment roadmap will help put your homeworking environment on a much stronger footing.
It includes a 10-minute training module for all staff, a 15-minute training module for managers and a self-assessment.
You can access all of these training aids for free, and they are available for roll-out as part of our Compliance Essentials Course Library.
Looking for more compliance insights?
If you'd like to stay up to date with best practices, industry insights and key trends across regulatory compliance, digital learning, EdTech, and RegTech news, subscribe to Skillcast Compliance Bulletin.
To help you navigate the compliance landscape, we have collated searchable glossaries of key terms and definitions across complex topics, including GDPR, Equality, Financial Crime and SMCR. We also track the biggest compliance fines, explaining what drives them and how to avoid them.
You can follow our ongoing YouGov research into compliance issues, attitudes and risk perceptions in the UK workplace through our Compliance Insights blogs.
Last but not least, we have 60+ free compliance training aids, including assessments, best practice guides, checklists, desk-aids, eBooks, games, handouts, posters, training presentations and even e-learning modules!
If you've any questions or concerns about compliance or e-learning, please get in touch.
We are happy to help!