Employees have mixed views about their experience of homeworking. Our Working from Home survey discovered that as well the expected upsides there were downsides too!
Homeworking comes with benefits and frustrations
The Skillcast WFH Insights Survey May 2020 presented 1,983 employees, confirmed as working from home all or most of the time, with a selection of upsides and downsides of working from home and asked them to identify those that applied to them personally.
Whilst all the age groups seemed to agree over the upsides, they had widely different views of the downsides. Millennials (aged under 35 years) reported far more downsides working from home more than older age groups.
Survey findings: Working from home resources
Positives: All ages felt experience similar benefits:



Working from home is liberating (48%)
Working from home is less stressful than working in a workplace (38%)
Working from home is more productive without the usual workplace interruptions (33%)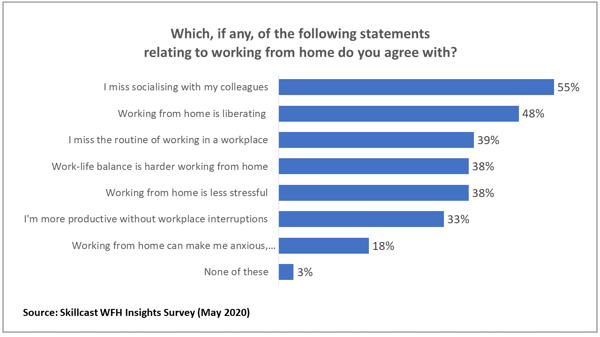 Negatives: And all ages suffered the same frustrations:



Miss socialising with my colleagues (55%)
Miss the routine of working in a workplace (39%)
Harder to manage a work-life balance than it is when at the workplace (38%)
Working from home can make me feel anxious, because I never know what my boss/company expects from me (18%)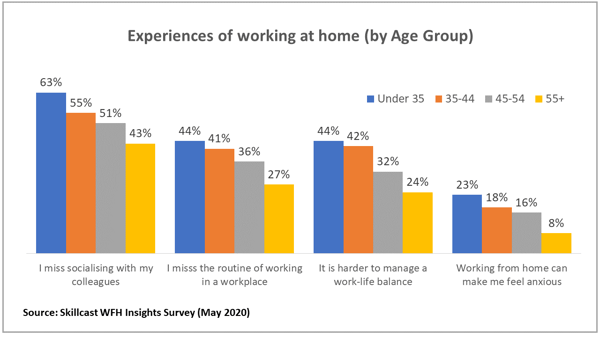 Liberation: Although almost half of employees (48%) feel working from home is liberating – that leaves a lot of people who didn't quite see that to be the case.
Routine: Surprisingly, the millennials (aged 35 an d under) are the most likely age group to miss the routine of working in a workplace (44%), compared with 27% of the over 55's.
Stress: Around 4 out of 10 (38%) feel working from home is less stressful than working in a workplace, although the same proportion (38%) feel it is harder to manage their work-life balance
Productivity: Only a third (33%) felt more productive without workplace interruptions.
Anxiety: 23% of millennials (aged 35 and under) said working from home could make them feel anxious, because they never know what their boss/company expects from them – significantly higher than other age groups
About the Skillcast WFH Insights Survey
Skillcast is the leading provider of compliance e-learning and staff compliance tools to companies in the UK, ranging from FTSE 100 giants to small and mid-sized businesses.
In May 2020, Skillcast commissioned YouGov to undertake the largest study of its kind in Great Britain, based on responses from 1,983 participants qualified as working from home all or most of the time. Fieldwork took place online between 23rd April & 4th May 2020.
This is just a taster of the full survey results. For further insights by the size of firm, the industry sector, region and demographics, email us at insights@skillcast.com.
To see more primary research results from our surveys, read our Insights blogs.
Need help with working from home compliance?
Working from home presents specific challenges to maintaining regulatory compliance. Which is why your senior managers and compliance officers will need a resilient, scalable plan.
Our 3-step compliance training and assessment roadmap will help to put your homeworking environment on a much stronger footing. It includes 10-minute training module for all staff, a 15-minute training module for managers and a self assessment too.
You can access all of these training aids for free, and they are available for roll-out as part of our Compliance Essentials course library.
If you've any further questions or concerns, just leave us a comment below this blog. We are happy to help!